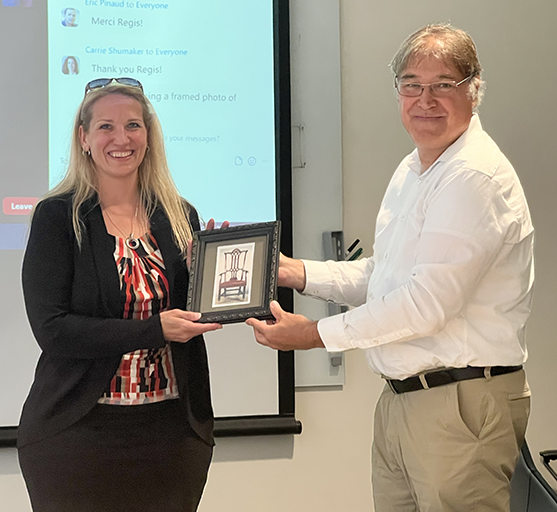 The Strategic Technology Advisory Committee (STAC) helps shape the strategic direction for technology services and projects across U-M by providing strategic advice to the VPIT-CIO and sharing information across the U-M IT community. STAC recently completed their annual charter review and elected new officers.
On June 21, STAC leadership held their annual business meeting and elected new officers and reviewed and approved the STAC Charter for fiscal year 2023 (FY23).
After serving as chair for one year and vice chair for two years, Regis Vogel, senior director of Development Services and Strategic Solutions at the Office of University Development, passed the chair leadership position to vice chair Cassandra Callaghan, chief information officer, School of Dentistry.
Carrie Shumaker, Dearborn chief information officer, was elected the new vice chair. Officer positions are held for one-year terms, with the vice chair assuming the role of the chair when the new vice chair is appointed.
Charles Yun, director of computing, School of Information, and Andre Zoldan, senior director of technology, Alumni Association, were elected members at-large. Each will serve a two-year term.
Erin Dietrich, senior director, Academic IT at Health Information and Technology Services, was elected to serve another one-year term on the steering committee.
Members at-large, Joe Gorde, director of information technology, School of Education, and Ryan Bankston, director of administration and operations, School of Social Work, ended their terms.
For more information, review the updated STAC Charter on the VPIT-CIO website which includes a membership list.