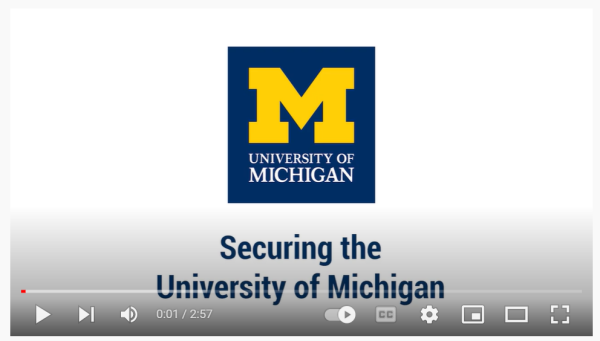 We live in a world of seemingly pervasive cyberthreats. From data breaches to ransomware disrupting business operations, to cyberattacks being a part of military operations, there are cyber incidents that make the news on an almost daily basis.
The Securing the University of Michigan video explores the cyberthreats we face and the actions the university takes to protect its resources, data, and the U-M community.
Between 2018 and 2021, the average cost of a data breach in the U.S. has gone from $7.3 million to $9.05 million and global cybercrime costs are estimated to top $10 trillion by 2025. Academic institutions are not immune from attacks, and are increasingly a target for cyber threat actors.
ITS Information Assurance (IA) works across the university to secure U-M digital resources against cyberattacks while maintaining the integrity of the U-M culture, our privacy, academic freedom, and freedom of thought and expression. IA does this by partnering with units to ensure the university community is aware of their shared responsibility to protect U-M
In recent years, IA has helped U-M up its security game by implementing a number of solutions. In January 2020, Duo two-factor authentication became required for all faculty, staff and students accessing U-M systems that use weblogin. In 2020 and 2021, IA rolled out Crowdstrike for enhanced endpoint protection, Area 1, an advanced anti-phishing solution that works with existing U-M email services, and Virtru for an added layer of email security that provides several features, including options to encrypt end-to-end.
Information Assurance is a shared responsibility, and every member of our community has a role to play in helping secure the University of Michigan. Check out the new Securing the University of Michigan video and share it with your community as a reminder of our responsibility to protect U-M's resources, data, and each other.