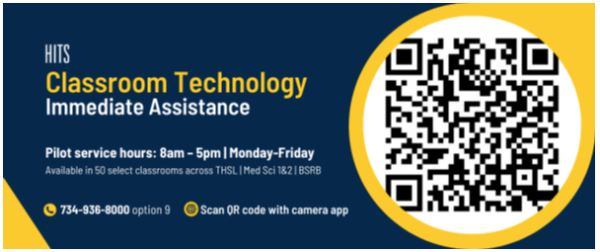 Health Information Technology & Services (HITS) has launched a new pilot service to help the Michigan Medicine community get expert, effective, time-sensitive support with classroom technology.
In Fall 2020, in collaboration with U-M Medical School (UMMS) leadership, HITS conducted a project to evaluate Classroom Support. The lack of in-person classroom technology support was one of the highest priority issues identified.
The goal of this new pilot service is to provide time-sensitive, in-person classroom assistance on demand. This is currently offered Monday – Friday, 8 a.m. – 5 p.m. across 50 rooms in four buildings (Taubman Health Sciences Library, Biomedical Science Research Building, Medical Science Building 1, and Medical Science Building 2), with plans to expand to more classrooms in the future. All pilot rooms are clearly marked with signage at the podium and on the wall near the door with two options for contacting support.
The first way for an instructor to request immediate support is by scanning the QR code provided in the room with their smartphone. This will take them to a Qualtrics survey where they can fill out the relevant information. Qualtrics automatically creates an incident in the ServiceNow ticket management system and assigns it to the HITS Classroom Technology Services and Support team.
The second way for instructors to request support is by calling the standard HITS support number (734-936-8000). A new option "9" has been added to the phone tree specifically for immediate assistance requests. The HITS Service Desk agent on the phone collects the same information as the survey and creates a new incident ticket in ServiceNow and assigns it to the Classroom Technology Services and Support team.
Upon receiving the support request, a highly-trained support specialist will be dispatched to the room to offer in-person assistance.
This launch is the result of two years of collaboration with faculty, staff and students to better understand their needs and capture input on how Classroom Technology should evolve. It represents one more step forward in our longer-term effort to improve the classroom technology experience for our instructors and learners. HITS is working to continuously improve our support model over the three-month pilot. When the pilot program wraps up in June, the project team will work with U-M Medical School leadership to determine continuation and expansion of the program.
Visit the Classroom Technology Immediate Assistance page for more details and answers to frequently asked questions.
For more information on other expanded services HITS offers for Classroom Technology, such as training and event support, visit the Classroom Technology page.