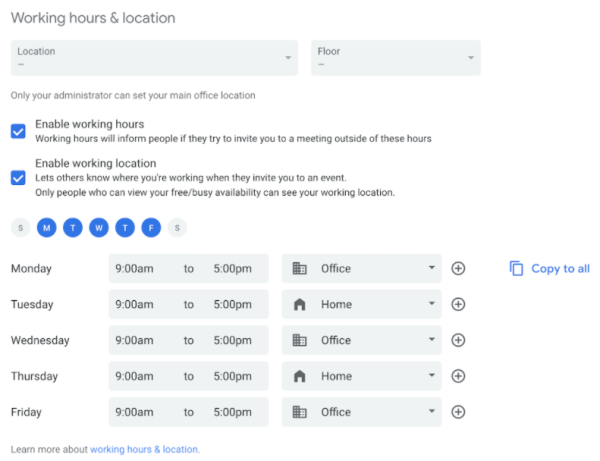 This month, I'm sharing an update that Google recently pushed out that I am very excited about: listing your working locations. Many of us are working hybrid schedules, and it can be difficult to let colleagues know where you're working when. This latest update to Google Calendar designates a spot on all of our calendars for this information!
To set it up, go into your Google Calendar settings, scroll down to working hours & location, then designate the location where you typically work for each day of the week. Colleagues who can view your free/busy availability will be able to see this information. Once they're set up, you can modify individual days by selecting the location at the top of your calendar. For more information, see Google's support page.
Are you using other methods to share your working location with your colleagues? Please share in the comments below!
---
Have a cool app, tool, or tech tip you'd like to share? Contact Chase Masters. Please note that Tech Tips are personal recommendations and might not be officially endorsed or supported by U-M.