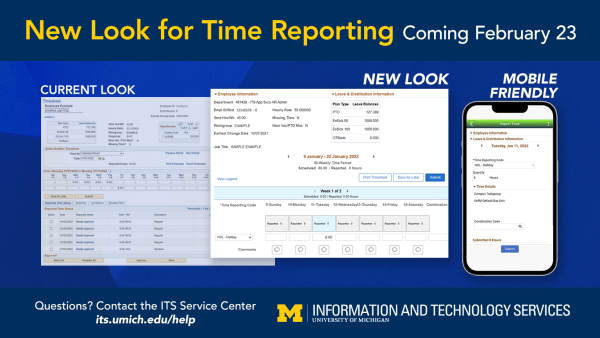 Information and Technology Services (ITS) is working with partners in schools, colleges, and across the university's three campuses and Michigan Medicine to roll out a new design and additional functionality for time reporting.
The upgrade will impact all employees who report, approve, or modify time. The upgrade will support a more mobile-friendly time reporting experience and ensure that the university maintains vendor support.
What will change?
The Timesheet is no longer one page.
New tiles have been added to report time.
Your role in Employee Self Service (Punch User, Webclock, Elapsed Time, etc.) will determine which tiles you see.
Your device (desktop, mobile, etc.) will also determine which tiles you see.
The Time and Labor WorkCenter has also been updated (this is primarily for managers and timekeepers).
Personalized Homepage tiles or Favorites to the current Timesheet.
What will not change?
Processes and procedures
Time reporting dates and pay cycles
Time Reporting Codes (TRCs) and Static/Dynamic Groups
Queries
Learn more
Check Updated M-Pathways Pages website regularly for additional information and learning opportunities.