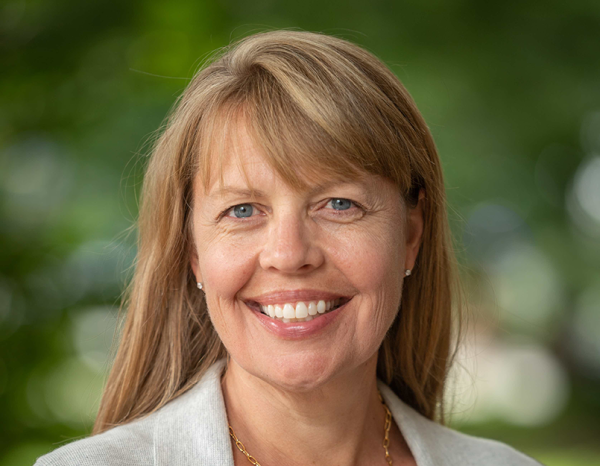 Amy Peters is the director of Research Computing and Infrastructure at the College of Literature, Science, and the Arts, and manages four teams: Research Computing, Infrastructure, Desktop Support, and Instructional Computing. She is passionate about the supportive and connection-driven culture of these teams. Outside of work, she is an avid reader with a love of writing, having earned her Masters of Business Administration and Bachelors in English, both from the University of Iowa.
Describe your role as the director of Research Computing and Infrastructure. Is there anything that might surprise someone unfamiliar with the job?
The director of RCI job has four teams that report to it: Research Computing, Infrastructure, Desktop Support, and Instructional Computing. While not fully included in my title, Desktop Support and Instructional Computing compose two thirds of my staff.

What does a typical day look like for you?
Like most leaders, I spend at least half of my day in meetings, but I'm engaged in lots of strategy work and working around a list of priority projects. My goal is to find one to two hours each day to write, think, and create some of the documents and deliverables that drive these projects forward.

Do you have any favorite typical tasks?
I was an organizational change management / training leader at ITS for 20 years before coming to LSA. I love to put together one to two page strategy documents for my leadership that translates a complex or expensive IT problem into something that executives can understand and support.
How did you get into this type of work? Did you always want to work in tech? If not, what did you plan to be when you were younger (whether as a child, high schooler, or college student)?
I have an English major with a specialty in Victorian poetry in college, and Residence Hall Director was my first "career." IT was the furthest career from my mind. I stumbled into IT as a consultant 25 years ago. My "goal" was to move home to Iowa from Michigan, and I was going to use the travel I thought I'd have with that job to get me home on weekends to search for something more permanent. Instead I got staffed locally at the University of Michigan on the M-Pathways project, first fell in love with my husband, and later fell in love with IT.
What are some recent projects you've worked on that you're especially proud of? What did you enjoy or find most satisfying about them?
I'm still learning the ropes at LSA, so much of the first six months was doing a listening tour with every member of my staff and the college chief department administrators for every department. I've also spent lots of time helping my team backfill some positions that were paused during the pandemic that have helped spread the work. While neither are what some might consider traditional "IT projects," I'm a strong believer that investing in people first builds the trust and relationships you'll need to innovate later.
In a previous interview, you mentioned being deeply impressed by the kindness, dedication, and knowledge of LSA Technology Services staff. Are there any special moments with other staff members you remember as displaying those qualities, whether during or before the pandemic?
It's my experience that every new organization and team has its own culture. I've been really touched with the way my peers, management team, and staff have taken time to educate me about the LSA and academic culture this year. I've also been very impressed with the way that individuals and teams have supported each other during some of the hard losses and challenges that this pandemic year has brought to people and their families. Folks around here very much live our "we've got your back" value.
What advice would you give to someone who wanted to work in the tech field? Are there any particular lessons you've learned along the way?
My favorite piece of advice has always been to thoughtfully navigate both technical and organizational changes for the IT projects you are driving. Without bringing people along on your journey, you'll always make projects harder to receive and embrace.
You recently mentioned that you enjoy reading. Do you have any favorite authors or books you tend to recommend to others?
I read everything so picking one author is hard. What I would recommend is everyone stream the new Apple+ series, Ted Lasso. It is the most delightful, warm, and kind streaming series I've watched during the pandemic.