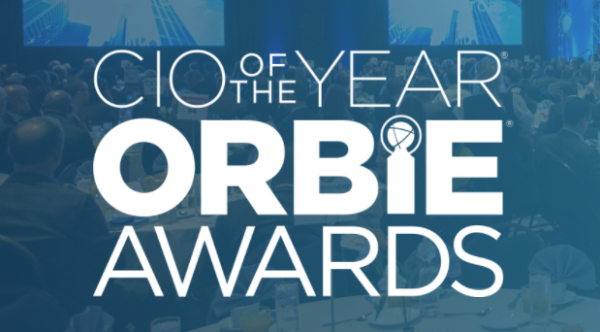 Since 1998, the CIO ORBIE Awards have recognized technology executives for leadership, innovation and excellence in this rapidly growing, CIO-led national professional association. The Michigan CIO of the Year® ORBIE® Awards honors chief information officers who have demonstrated excellence in technology leadership. CIOs are typically recognized in multiple categories, based on the size and scope of their organization and responsibilities.
"The MichiganCIO ORBIE winners demonstrate the value great leadership creates. Especially in these uncertain times, CIOs are leading in unprecedented ways and enabling the largest work-from-home experiment in history," according to Jen Wise, executive director of MichiganCIO. "The ORBIE Awards are meaningful because they are judged by peers—CIOs who understand how difficult this job is and why great leadership matters."
U-M's own Ravi Pendse, vice president for information technology and chief information officer, won in the nonprofit/public sector category in 2020, and was nominated for the national award in 2021.
In 2021, Michigan IT had four finalists in three categories:
Cathleen Curley (LSA) in the Enterprise category (up to $1B in annual revenue). Known for her passion, strategic thinking, creating a collaborative work environment, and being an innovative leader, Cathy has 20 plus years' experience in various IT and leadership positions across Higher Ed and Industry. Cathy led the effort to create the development of a university-wide IT strategic plan. She has extensive experience in process improvement, change management, IT portfolio management, coaching, and mentoring.
Carrie Shumaker (UM-Dearborn) in the Corporate category (up to $300M in annual revenue). Carrie is responsible for leading and managing a team of 30 ITS professionals as well as leading the development, implementation and administration of comprehensive IT strategies, policies and procedures that support the university mission and goals.
Andrew Rosenberg (Michigan Medicine) in the Healthcare category. Dr. Rosenberg guides the strategic planning and operations of technology and information services across the University of Michigan Health System and Medical School.
Daniel Waltz (MidMichigan Health) in the Healthcare category. Dan has extensive health care administrative and information technology experience. He joined MidMichigan Health in January 2014 after 13 years at Michigan Medicine where he was an Executive Director of hospital information technology and Program Director for the electronic medical record transformation.
Congratulations to all four finalists and to winner Andrew Rosenberg!