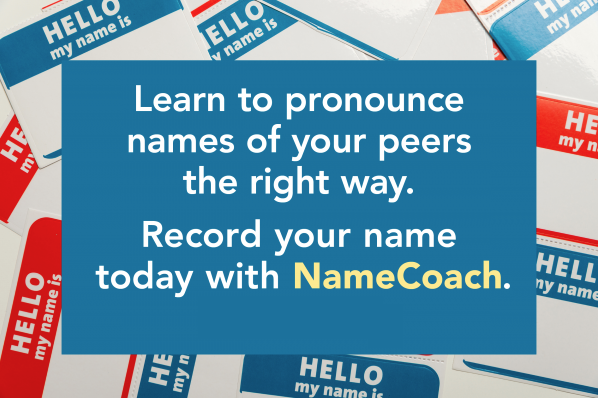 NameCoach is a web-based tool that allows users to record, listen to, and learn names. It promotes inclusivity across all campuses (Ann Arbor, Dearborn, Flint, and Michigan Medicine) for all current students, faculty, and staff. NameCoach enables units to promote organizational diversity, equity, and inclusion, foster employee retention, and forge better customer relationships.
Now, the NameCoach Participants APIs are available for the campus software developer community. The NameCoach API is a REST-based interface that is used to request name recordings. The APIs are published under the API Directory (be sure to use the UMVPN for access). More information can be found in the public-facing knowledgebase article in TeamDynamix (TDx) or in the API Directory.
"With an API, developers can now more easily help all students feel welcomed on campus by integrating audio signatures in their desired applications," said Sean DeMonner, executive director, ITS Teaching & Learning. "NameCoach is a fantastic tool that makes it easier to be inclusive. I am excited to see what creative people all over campus come up with."
NameCoach integrates with Salesforce
NameCoach also now integrates with Salesforce. Salesforce administrators who are interested in having NameCoach functionality appear in their service should email 4help@umich.edu to create a TDx ticket for the ITS-NameCoach team.
Add NameCoach to your email signature
Students, faculty, and staff on all campuses (Ann Arbor, Dearborn, Flint, and Michigan Medicine) can now add a NameCoach pronunciation link to their email signature in both Gmail and Outlook. To create or copy your own signature link, use the NameCoach email signature button on the ITS service page. The copied link can be added to Gmail and Outlook signature settings.
NameCoach is still available in Canvas
NameCoach continues to be an option offered in all officially-provisioned Canvas courses to help instructors and students learn how to phonetically pronounce the names of the people in their classes. The tool has two parts: NameCoach Recorder, which allows users to record their own name, and NameCoach Roster, which allows students and instructors to listen to and learn the names of others in a Canvas course.
Resources