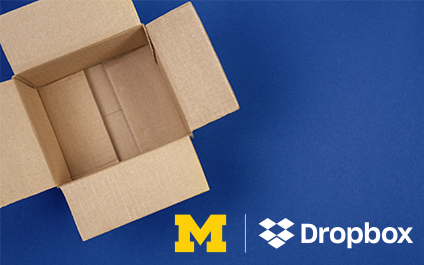 U-M's move from Box to Dropbox has gone amazingly well, as the window for scheduling migrations is coming to a close on October 31. The faculty, staff, and students on top of their game have scheduled over 345 terabytes of data to be migrated since last spring, when the process officially began. By comparison, that amounts to more than 1380 laptops, 2760 smartphones, 448,500 physical filing cabinets, or 86,250,000 pictures using a 12mp camera.
Faculty and staff who have not migrated their U-M Box data received an email on September 30 reminding them of the last day to schedule their migration, after which all Box accounts will be deactivated. While requests for extensions will not be available after October 31, individuals will have a grace period until November 14 to select "Migrate Now" using the ITS Self-Service Migration tool. Once the grace period has ended, remaining Box data will be archived, which means all metadata — such as permission shares and creation dates — will cease to exist. 
Archived data requiring retrieval will need to be made using the disaster recovery process. As most IT staff are aware, disaster recovery is a time-consuming and expensive process. University faculty and staff requesting this option will be responsible for covering any associated costs, either themselves or through their department or unit. Additionally, archived data will be available only for a short period before it is permanently deleted and impossible to recover.
Individuals with questions about the migration process should visit the Box Retirement website, or contact the ITS Service Center or HITS Service Desk. Additional information can be found on the Support & Training webpage.