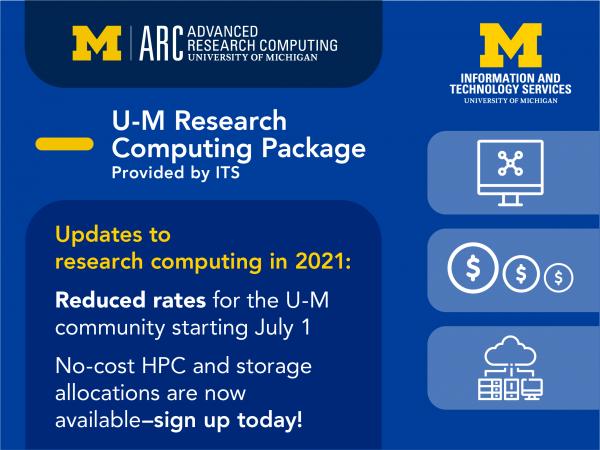 The University of Michigan Research Computing Package (UMRCP), provided by Information and Technology Services, is an investment into the U-M research community via simple, dependable access to several ITS-provided high-performance computing clusters and data storage resources. 
University researchers now have access to a base allocation for 80,000 CPU hours of high-performance computing and research storage services (including 10 TB of high-speed and 100 TB of archival storage) at no cost, thanks to an additional investment from ITS. These base allocations will meet the needs of approximately 75 percent of current high-performance computing users and 90 percent of current research storage users. Be sure to request UMRCP services.
"This initiative provides a unified set of resources, both on campus and in the cloud, that meet the needs of the rich diversity of disciplines. It provides a model that aligns with funding flows and new demands on faculty from funding agencies," said Ravi Pendse, vice president for information technology and chief information officer."
The U-M Research Computing Package was developed by ITS to meet needs across a diversity of disciplines and to provide options for long-term data management, sharing and protecting sensitive data, and more competitive cost structures that give faculty and research teams more flexibility to procure resources on short notice.
PhD students may qualify for their own UMRCP resources depending on who is overseeing their research and their advisor relationship. Students should consult with their PhD program administrator to determine their eligibility. ITS will confirm this status when a UMRCP request is submitted.
Undergraduate and Masters students do not currently qualify for their own UMRCP, but they can be added as users or administrators of another person's UMRCP. Students can also access other ITS programs such as Great Lakes for Course Accounts, and Student Teams.
"The Biomedical Research Core Facilities Advanced Genomics Core is very excited about the launch of the UMRCP and we think it's a real 'touchdown' for the maize and blue. The Michigan Medicine version of this package was incredibly popular, and we think expanding this offering across all of our campuses will propel Michigan in the high-performance computing and data storage space," said Olivia Koues, managing director for Advanced Genomics Core. "We anticipate that UMRCP will be a sure win when it comes to faculty recruitment in the genomic research space, and we are currently developing a plan to deliver genomic data to all of our U-M customers using Data Den from the UMRCP."
Brock Palen, Advanced Research Computing director wants researchers to know that researchers can depend on ITS and ARC for stable and secure services. "If you're a researcher at Michigan, these resources are available to you without financial impact. We're going to make sure you have what you need to do your research. We're investing in you as a researcher because you are what makes Michigan Research successful."
Jesse Capecelatro, assistant professor of mechanical engineering, is excited about the opportunities that the UMRCP will provide for research computing across campus. "This is fantastic news. High-performance computing has been instrumental in my work, which includes COVID-19 modeling of disease transmission. I am excited to stretch my grant dollars a little father. The UMRCP makes high-performance computing more accessible to faculty and students, and allows them to address important and challenging problems."
Services that are needed beyond the base allocation provided by the UMRCP are available at significantly reduced rates (the average rate reduction is 40 percent). The rates are automatically available for all researchers on the Ann Arbor, Dearborn, Flint, and Michigan Medicine campuses.
Additional information about the U-M Research Computing Package, including how to request allocations as well as the rates, is available on the Advanced Research Computing website.
Resources: Sign up, get help, training opportunities