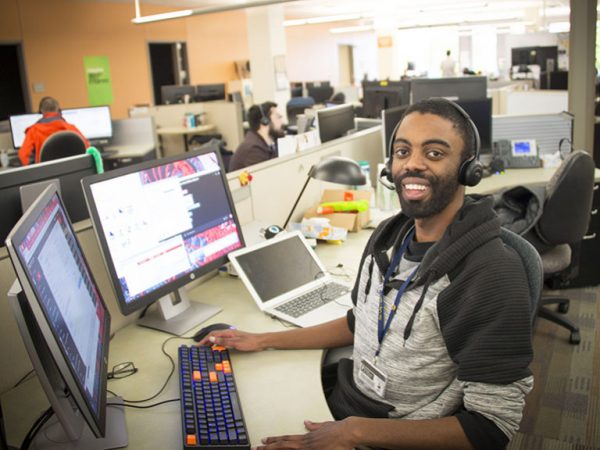 An apprenticeship program created in partnership by the State of Michigan, Michigan Medicine and Washtenaw Community College is seeking aspiring information technology professionals.
Michigan Medicine's Service Desk Apprenticeship Program pays entry-level candidates to serve a one-year apprenticeship in front-line technology support, receiving extensive on-the-job training and formal technical coursework at WCC in the process.  
 
At the end of the program, apprentices earn a WCC 16-credit Computer Systems Technology certificate and emerge with a deep knowledge of the IT architecture of a world-renowned medical center. The WCC coursework is paid for by the program. 
"We have had incredible success with this program in the past. Apprentices get exposure to different areas and teams while developing their professional skills on the job," said Motica Lowery, manager of the Health Information Technology & Services (HITS) Service Desk. Her team handles more than 20,000 IT-related contacts each month through calls, online submissions, and walk-ins. "We look forward to continuing this success and expanding our program to reach more talented individuals." 
 
Lousayni Benson, a former service desk apprentice, was hired by HITS full-time from the program. The Detroit native moved back to Michigan after working at an Amazon distribution center in Ohio, where he was exposed to some IT-related work that interested him. 
 
"I wanted to complete my education, but I also needed a job," Benson said. "When I saw this job placement at Michigan Medicine, it was basically like going back to school and having it paid for. Finishing this program was a great accomplishment." 
 
HITS will hire about 10 apprentices for its program this year. Interested candidates can apply through the U-M Careers website until September 19.