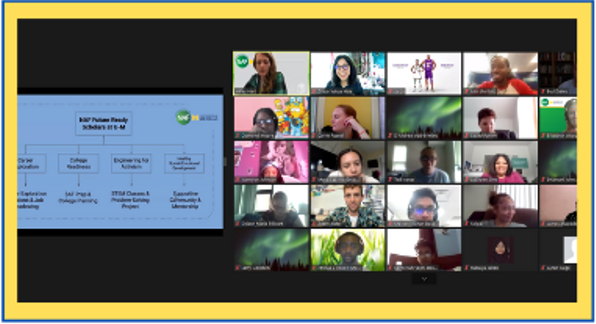 The Michigan Engineering Zone (MEZ) is a place for middle and high school students of Southeast Michigan to learn, grow, and lead. As part of the University of Michigan College of Engineering, the MEZ strives to provide world-class STEM resources, instruction, and counseling to students.
The community is thriving through two online summer programs: the Qualcomm Thinkabit Lab and the NAF Future Ready Scholars Program. The Thinkabit Lab, funded through a grant from Qualcomm, hosts three separate one-week, hands-on engineering camps. In these "Tech for Good" camps, middle and high school students explore different careers in Science, Technology, Engineering, and Math (STEM) and create robotic prototypes that will improve the future. During the pandemic, the Thinkabit Lab staff found ways to transition the hands-on engineering curriculum into a take-home kit, providing over 600 Arduino kits to students across Southeast Michigan. Summer campers also hear from college and career panels, including current students at University of Michigan and employees at Qualcomm, who are able to meet with the students over Zoom to share their professional journeys and life lessons.
The NAF Future Ready Scholars program has also adapted to thrive in the virtual learning environment. While the program was originally designed to be an intensive overnight camp on the U-M Ann Arbor campus, the program's inaugural summer was interrupted by the pandemic in 2020. Despite these changes, the Future Ready Scholars has grown from 50 high school participants in 2020 to 70 this summer. During the two-week camp, students explore different careers and start to map out their own future goals. They also select from one of six STEM courses and learn engineering mindsets and skills (like computer programming, robotics, or entrepreneurship) that they can use to design solutions to real world problems that they care about, including mental health issues, racism, and climate change.