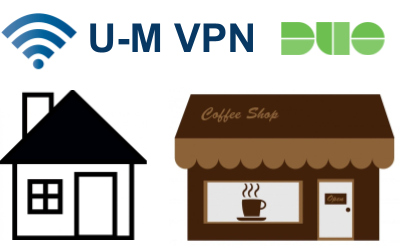 You already use Duo two-factor authentication when you log in to most U-M computing services, and many of you already use it when logging into the U-M VPN. Coming in fall 2021, it is anticipated that you will be required to use it when logging in to the U-M Virtual Private Network (VPN). That will provide added security not just for you, but for U-M networks and systems, too.
July 27, 2021 update: Duo will be required for login to the U-M VPN beginning September 14, 2021.
How to update
The Cisco AnyConnect app and profiles using Duo were made available on the ITS website in July 2020. When you log in using them, you see the U-M Weblogin screen and Duo prompt, just as you do when logging in to other U-M services. Download the app and profiles at ITS: Getting Started With VPN.
If you provide IT support to people who use the U-M VPN, please encourage them to download and use the AnyConnect app and the profile that uses Duo.
MiWorkspace and other managed computers updated for you
Mac. If you have a MiWorkspace Mac or a Mac managed via ITS's Managed Software Center (that is, those managed via Izzy), the Cisco AnyConnect client app with the VPN profile using Duo is available now on your computer for your use at Applications –> Cisco.
Windows. MiWorkspace Windows computers are equipped with an "always on" VPN-like client called DirectAccess that does not require separate client software.Typically, the Cisco AnyConnect client is not necessary on a MiWorkspace Windows computer. However, those using it for special access needs will receive updated connection profiles with Duo.
Not required for alumni and retirees
Retirees and alumni—who use a different, designated connection profile—will not be required to use Duo for VPN.