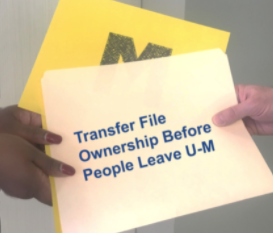 If you are changing jobs, retiring, or leaving U-M, move any files needed for university business somewhere that your colleagues can access and set appropriate permissions. This includes files on your computer; files in Google at U-M, Dropbox at U-M, and other online storage; and MCommunity groups.
Use shared storage space when you can
It is best to use online storage space owned by your workgroup whenever you can to make transitions in staffing easier. Options include:
Transfer file and group ownership
Transfer ownership of files to individuals who may need them for their work as needed.
If you own MCommunity groups used for U-M business, designate new owners to manage updates and annual renewals. It is best to have several owners of groups used for university business.
Managers are encouraged to work with departing employees to ensure needed transfers of files, data and groups. See these resources for tips and information:
Clean up unneeded files
Download and remove personal files from university systems and storage if you are leaving U-M.
Delete any obsolete files that are of no use to you or your colleagues.
If something is missed
If something important is missed and the employee no longer has access to transfer ownership, there may be a compelling business or personal need for others to gain access.
Units can request access for U-M business reasons. In rare cases, people with a personal relationship to the account holder can request access to personal materials held in a U-M account. The university may provide such access where reasonable and appropriate in accordance with university policy. See Getting Access to Someone Else's Account.