UM-Dearborn deployed a door screening system for Fall 2020 where live screeners checked student and faculty ResponsiBLUE screens, took their temperatures, and compared their Mcard swipes against schedules to ensure they had a class in the building on that particular day. This process was highly successful in keeping building densities low while ensuring compliance with public health guidelines.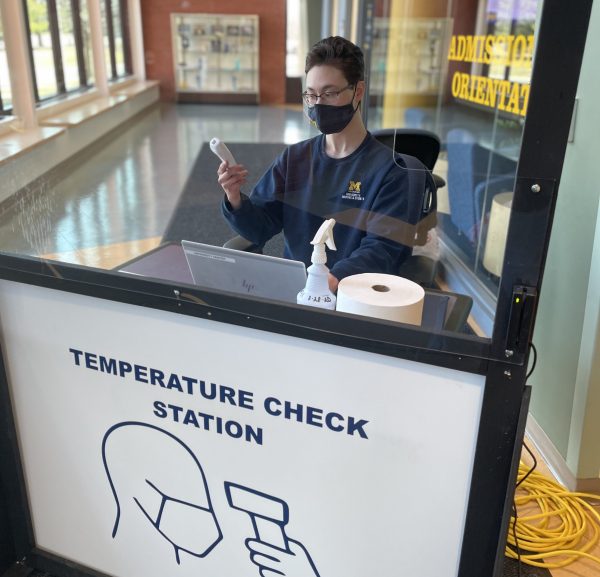 As the Fall 2020 semester progressed, a number of potential improvements were identified with the door screening process. First, student study spaces were scheduled and assigned a desk manually and then uploaded to WebFocus, the Dearborn data reporting tool. A couple of times, the manual file upload was not uploaded before the automatic scripts distributed the data to the building spreadsheets. In addition, as the semester progressed, a number of additional one-off appointments were created all independently of each other and the screening process.
To resolve these issues in addition to making a smoother process for students, faculty, and staff, Dearborn ITS turned to the LibCal product. LibCal, used by libraries across the university, took on a new purpose when it came to scheduling study spaces. This new tool allows users to self-schedule for reservable spaces.
By leveraging LibCal, Dearborn officials were able to combine disparate home-built scheduling systems into one, centrally-managed system. This system is now configured for student study spaces, faculty and staff work spaces, Mcard appointments, Math Learning Center appointments, Supplemental Instruction, and more. Leveraging the LibCal API, the automated load process now queries LibCal for that day's schedule, completely removing human intervention. The overall process combines on campus class data from WebFocus with LibCal scheduling data to form one list of all people who should be on campus and screened.
This new, combined system allows for easy contact tracing across all approved reasons for being on campus. It proved an effective tool in contact tracing in the fall. The system logged more than 6,000 card swipes in about two and a half months during the fall semester.