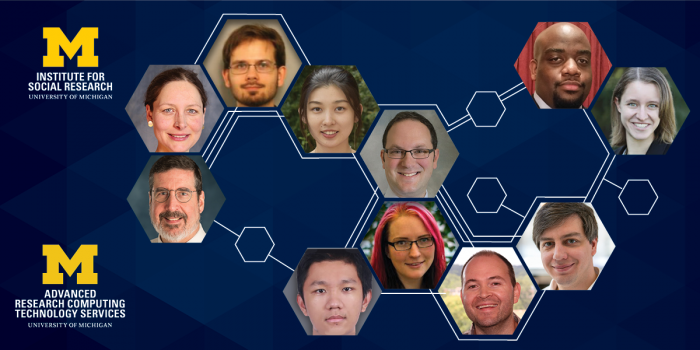 If you are grappling with a piece of code, trying to compute on a cluster, or just getting started with a new method such as machine learning, CoderSpaces can help.
All members of the U-M community are invited to join the weekly virtual CoderSpaces starting Monday, November 3, 2020, to get research support and connect with others.
The virtual sessions are designed to assist faculty, staff, and students with research methodology, statistics, data science applications, and computational programming for research.
The hosts have a wide set of methodological and technological expertise and come from a variety of departments and disciplines. They are looking forward to serving the U-M community with their research endeavors.
CoderSpaces provide a casual, productive, and inclusive environment, and everyone is welcome, regardless of skill level.
"The weekly virtual CoderSpaces are a great way to connect and socialize with others in the U-M community over common interests, especially while most of us continue to work from home. Our hosts team seeks to enable new connections that span U-M departments and units, and support people in growing their coding and data science skills. I can't think of a better way to foster research excellence and interdisciplinary collaboration at the University of Michigan at this time," said Jule Krüger, ISR program manager for Big Data and Data Science and a member of the Advanced Research Computing – Technology Services Scientific Computing and Research Consulting Services.
Weekly opportunities
Mondays 10:30 a.m. to 12 p.m.
Join via Zoom*
Experts: Andrew Hlynka (CSCAR), Charles Antonelli (LSA Tech), Erin Ware (SRC/ISR), Jonathan Golob (Michigan Medicine)
Expertise: 3D graphical applications, C, C++, C#, data management, HPC, Java, JavaScript, Matlab, mobile app development, Python, R, reproducible workflows (nextflow), SAS, Slurm, statistical modeling
Tuesdays 2 p.m. to 3:30 p.m.
Join via Zoom*
Experts: Alexander Gaenko (CSCAR), Chen Chen (PDHP/ISR), Lingxi Li (PDHP/ISR), Paul Schulz (PDHP/ISR)
Expertise: C/C++, CMake/GNU Make, data management, Fortran, Git, HPC, Julia, Mplus, parallelization, performance analysis, Perl, Python, R, SAS, secure computing enclaves, shell, SQL, Stata, statistical computing, survey methods (hypothesis testing, imputation, modeling, statistics, sampling, questionnaire design, weighting), web scraping
Thursdays 9:30 a.m. to 11 a.m.
Join via Zoom*
Experts: Armand Burks (ARC-TS/UMSI), Jule Krüger (ISR/ARC-TS), Meghan Richey (ARC-TS)
Expertise: automation of tasks and workflows, bash, C++, cloud analytics, Git, data analysis, management and visualization, GNU Make, HPC, Java, LaTeX, machine learning (Tensorflow, Keras, convolutional neural networks), Markdown, natural language processing, Python, R, web scraping (Selenium)
*To join, participants need to authenticate with their UMICH (Level-1) credentials.