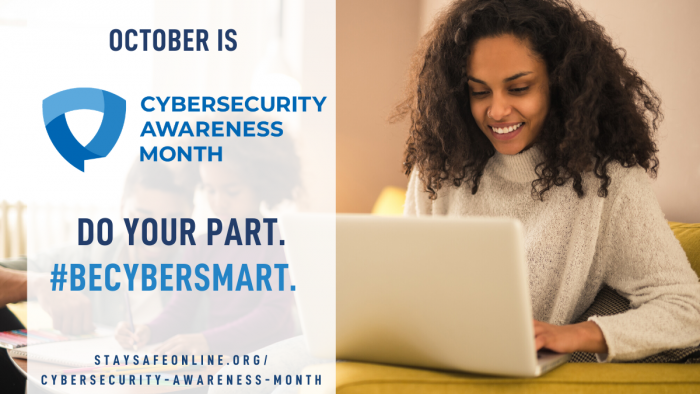 Each October, ITS Information Assurance (IA) celebrates Cybersecurity Awareness Month by reminding members of the university community about their shared responsibility to protect themselves and the U and by sharing IT security and privacy tips. This year's theme is Do Your Part. #BeCyberSmart.
Virtual sessions
While there won't be the usual in-person SUMIT cybersecurity conference this year, IA is planning a number of virtual sessions on topics such as Virtru enhanced email security, use of federated identities, privacy, remote IT security, and more. Watch for future emails, and keep an eye on the Safe Computing: Cybersecurity Awareness Month 2020 page for details about these and other activities as more information becomes available.
New IT security tools coming
The COVID-19 pandemic has not slowed down cybercriminals and other threat actors. If anything, the resulting move to remote work and study often has left computers more vulnerable. Phishing, ransomware, and other attacks continue to increase, with universities, school districts, government, and health care targeted.
"Strategic investments to improve security are needed more than ever," said Sol Bermann, chief information security officer and executive director of ITS IA. "To help you protect U-M and your unit's data and systems from increased risks, we are excited to be rolling out CrowdStrike Falcon for enhanced endpoint protection and Virtru, a new email security tool."
Virtru at U-M is available now, and Falcon, already in use on MiWorkspace and many MiServer machines, will be rolled out to units across the UM-Ann Arbor, UM-Dearborn, and UM-Flint campuses over the next few months. Falcon provides antivirus, anti-malware, and threat detection and mitigation capabilities, all of which provide even stronger protection against ransomware and other malicious attacks than previous tools (Falcon is only available for U-M owned machines). Watch for more information about these new tools during Cybersecurity Awareness Month.
Note: Michigan Medicine has tools that are similar to both Virtru and Falcon that are already in place.
Resources on Safe Computing
As always, you'll find tips and guidance on everything from IT security when working remotely to phishing to secure videoconferencing to passwords on Safe Computing. Get a quick flyover of the site: Video: You've Got a Site for That—Safe Computing (1:55).