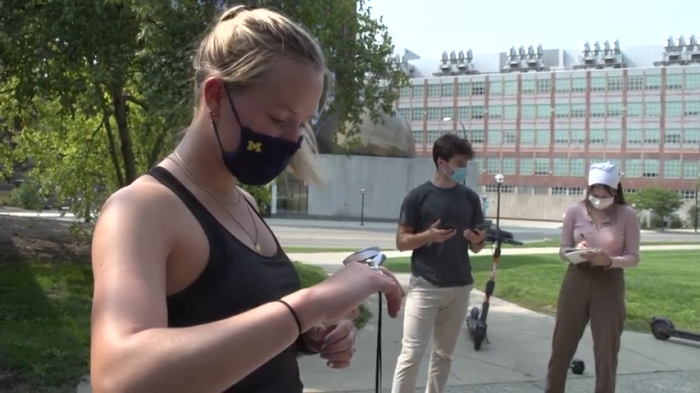 The kinesiology students in Scientific Inquiry Using Wearable Technology class represent one of four groups that came to campus to experience the lab-based course that uses the latest technology to study how movement and function impact health.
The experiment the team designed uses a Bioharness3 worn as a chest strap, a Biostrap worn on the arm (new technology that provides easier access to more raw data than a Fitbit or Apple watch) and a pulse oximeter. Other available equipment includes a Stryd device, which allows detailed running metrics; a Moxy Monitor, which measures skeletal muscle oxygenation; and Athos smart garments to measure muscle recruitment and activation.
The students note the field of wearable technology — already exploding in recent years with consumer interest in fitness wearables and other advances in technology — has taken on new importance in a COVID-19 world. In fact, some students are participating outside of the class in U-M studies that involve the smart technology they wear to measure potential markers for the virus.