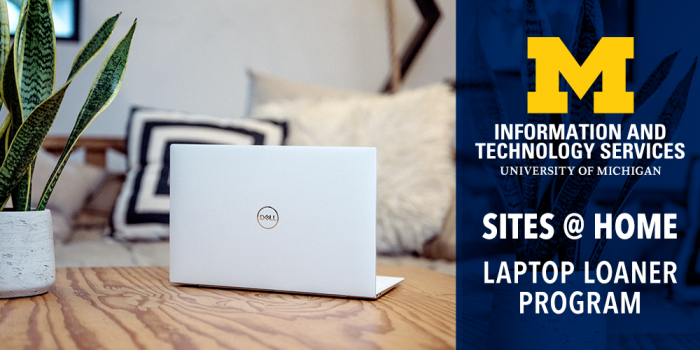 The pandemic has created new and unique challenges for students. To support a culture of caring and to create safe computing options, ITS developed a new laptop loaner program called "Sites @ Home."
The program provides the best that ITS has to offer: Campus Computing Sites with access to specialized software, a Windows PC, and computers with higher processing speeds. Additionally, the program helps meet the needs that some students may have if they are not able to come to campus, or if they do not feel comfortable using a shared work space.
It is designed to supplement the loaner programs that are already in place within schools and colleges, and to ensure that students have access to the technology they need to succeed.
"We are proud to support students who have remote learning needs (both distance and on-campus) to remove the technology barriers they may face by providing well-equipped laptops," said Bob Jones, executive director, ITS Support Services.
Additional information about the program and how to get help is on the Information and Technology Services website.
The program is no longer accepting new requests. ITS offers other resources that may be useful to students:
Virtual Sites: Use Virtual Sites to remotely use Campus Computing Sites Windows software from your own device or a Sites Mac. Anyone with an uniqname and UMICH password is eligible to use Virtual Sites.
AppsAnywhere Software Portal: Software on Windows computers at Campus Computing Sites and Virtual Sites is streamed to computers using AppsAnywhere, a software portal similar to an app store. Search for and launch the software you want to use from the portal instead of opening the application from the Windows Start Menu. AppsAnywhere can be accessed in three ways: Your Windows computer, your Mac computer, or U-M Sites Computers.
Campus Computing Sites: Campus Computing offers no-hassle, secure, and free access to U-M provided software, desktop computing, and printing, all supported by knowledgeable support staff. Many will soon be open for student use.