Since late June, when the university announced its decision to have students on campus and enable a combination of in-person, hybrid, and remote classes, LSA Technology Services quickly took action to enable an unprecedented delivery of the LSA liberal arts mission. In two short months, we've invested, improved, and implemented technology and services to not only meet the goals for fall 2020 but to also impact the liberal arts mission and LSA experience for many years to come. Here are a few of these amazing changes!
Upgrading classrooms and other learning spaces
LSA Technology Services determined new instructional capacities and density limits for classrooms, and worked with a number of departments and the registrar's office to identify available conference rooms in which classes could be held. We implemented furniture and layout signs, and distributed furniture for physical distancing, all in partnership with LSA Facilities and to meet new health and safety guidelines.
To enable faculty to teach in person, with students in class and also remote, we upgraded and installed lecture capture and live-streaming capabilities in 136 classrooms, and delivered AV carts to an additional seven studio-lab spaces. We updated an additional 30 rooms for faculty to conduct remote teaching, record lectures, or both, and plans to upgrade our remaining 49 rooms this semester.
We also partnered with multiple campus units to launch studyspaces.umich.edu for students to reserve rooms across campus for quality internet access and quiet, low density areas to take classes and study.
In collaboration with volunteers from across the college, we pitched in and built and distributed over 300 hand sanitizer stations, packages of face masks, and sanitizer wipes for our classrooms so that students and faculty have everything they need to safely learn and teach in the classroom.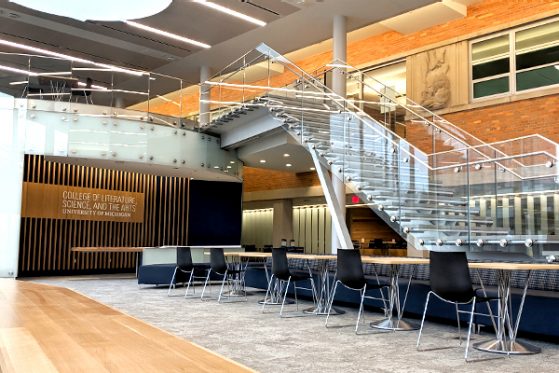 Helping instructors with technology and pedagogy
We introduced over 150 faculty to new hybrid technologies and in-classroom instruction in LSA classrooms. LSA Technology Services provided hands-on-training to over 200 instructors on new classroom technologies and how to best utilize live-streaming in a hybrid class.
Our Learning and Teaching staff and BlueCorps trained over 600 faculty and GSIs over the summer, 450 of those in consultations, as they prepared for the fall term, identifying effective ways to translate their pedagogical approaches to the remote and hybrid environments, use or expand the use of instructional technologies, and implement technologies that ensure that LSA's extraordinary learning environment extends into the hybrid and remote experience. This included creating original videos, collecting clips from film and video, helping faculty envision new methods of assessment that were open book, open note, and open internet, evaluating the best tools for video annotation, collective virtual whiteboarding for problem solving, and increasing engagement with better tools for online discussion.
We, in partnership with the Teaching and Technology Collaborative, LSA Language Resource Center, and other U-M units, designed, organized, and presented a series of synchronous workshops that collectively have been known as Ready to Go Blue (R2GB). The R2GB workshops, which began running daily in July, covered a wide range of topics for faculty and staff, including engaging students in online contexts, accessibility considerations of online courses, effective use of Zoom, copyright considerations for online courses, and many others. The collective efforts of R2GB offered 222 separate sessions with attendance from over 1,700 members of the U-M community. Our staff offered over 85 workshops since the beginning of July with 18–20 people attending each session!
Providing students loaner equipment & support
We've increased our equipment loan inventory by 25% to strengthen support for undergraduate and graduate students. We also quickly changed our length of loan terms so that laptops can be loaned for several months versus several days. We added several hundred Wacom tablets to support instructors and students who need digital writing surfaces, over a hundred iPads and laptops, home video recording kits, webcams, and headsets. We heard many concerns and issues from students related to their internet access and secured several devices with hotspots for students with dire internet access issues.
Students can call us and be directed to get help with an equipment loan, internet connectivity issues, and other technology questions related to their course work and classes. They have access to a new section on our website just for students — Learning Remotely — with all the information available to help them leverage technology this semester.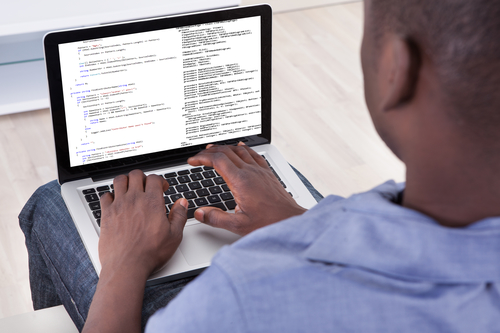 Supporting college and department administration
We updated the course scheduling system to accommodate new course types of in-person, hybrid, and remote. This was used by department leaders, the college, faculty, and staff to work through determining which courses could be taught on campus, which faculty are available to teach on campus, and what rooms could be used for these courses.
We developed and implemented several administrative workflow applications to support multiple processes for bringing research back on campus as well as staff and faculty back to campus.
Many LSA staff, like other U-M employees, left campus quickly in March, not knowing that they wouldn't return until the fall or even later. Our teams worked with our departments to understand service and staffing plans and to outfit hundreds of LSA staff with new mobile computer equipment in cases where they were not able to move their desktop computer and/or were using personal computing equipment.
We built and improved our LSA enrollment dashboards to be able to improve our understanding of trends and impacts that the pandemic may have on key financial indicators.
We appreciate and thank all of our university partners and are proud to be part of the Michigan IT team serving our faculty, students, and staff. Go Blue!