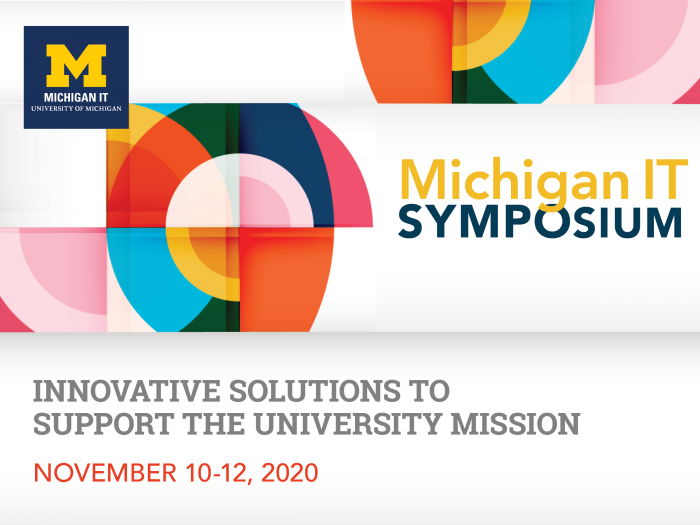 Mark your calendars for the Michigan IT Virtual Symposium, November 10-12, 2020. That's right. "Virtual." The pandemic has changed our approach in planning for the 2020 Michigan IT Symposium. Due to constraints regarding a face-to-face event, the planning committee has worked with the Michigan IT Steering committee to develop the framework for a rich and rewarding virtual experience.
A virtual Michigan IT Symposium will be different, but the objectives for the 2020 Michigan IT Symposium are strong.
Strengthen and build collaborative partnerships across the Michigan IT community
Build connections between Michigan IT and industry colleagues
Learn about ways IT can support and has adapted to a changing work environment
Recognize innovations in supporting faculty and students across Michigan
The results of a spring survey to past attendees and presenters is providing insight into our plans. Feedback from more than 140 responses is informing decisions we are making. The co-chairs for this year's event are Mashon Allen, Director of Information and Technology Services Project Management Office and T. Charles Yun, Director of Computing for the School of Information. Together, with the planning committee, we look to make the 2020 symposium a memorable event. 
Michigan IT community members can expect the call for submissions / proposals in your email the week of July 20.
The symposium is one of several activities organized by the Michigan IT Steering Committee to build community and encourage collaboration among U-M's 2,700 IT professionals.