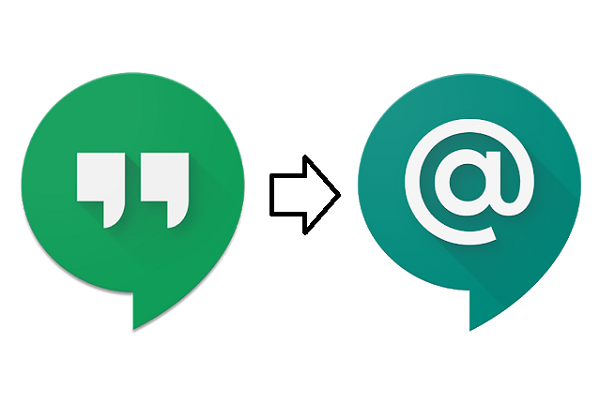 Starting today, July 15, 2020, Google Chat has replaced classic Google Hangouts in Gmail and is now the default option for direct (one-to-one) messages, group messages, and team-based room discussions within Gmail.
For several years, classic Google Hangouts had been a part of Google at U-M and integrated with Google Mail. Google Chat is an updated, team-based experience and better integrates with G Suite. Refresh your browser to get started using Google Chat in Gmail. Visit the U-M Google Chat FAQ for answers to commonly asked questions.
ITS strongly recommends the use of Google Chat rooms for team-based work. Group messages are still available for smaller, private conversations. (You will need to recreate any group messages you may have used in classic Hangouts.)
How does this affect me?
All previous one-to-one messages from classic Hangouts now appear in Google Chat.
Classic Hangouts group messages do not appear in Chat but should be available at hangouts.google.com until the end of 2020.
All classic Hangouts desktop, mobile, and browser extensions or applications are now deactivated.
Learn more about getting started with Google Chat at U-M and its current features and limitations.
What about communicating with people outside of U-M?
Google Chat group messages and rooms will not send messages to people outside of U-M who are still using classic Hangouts.
Google Chat rooms can include people from outside the university. But, if they are not already using Google Chat they will not be able to see the message in classic Hangouts and will need to open Chat through chat.google.com. Additionally, they will not be able to see room messages in classic Hangouts.
Group messages created in classic Hangouts with people outside of U-M need to continue in classic Hangouts.
What about calling and video conferences?
Phone calls can continue to be made in classic Hangouts. Phone calls cannot be made from Google Chat.
Google Meet is now the default video conferencing option in Google Chat. Video calls made in classic Hangouts are converted to a Google Meet session, sending the Chat user a link to the meeting.
Additional resources: