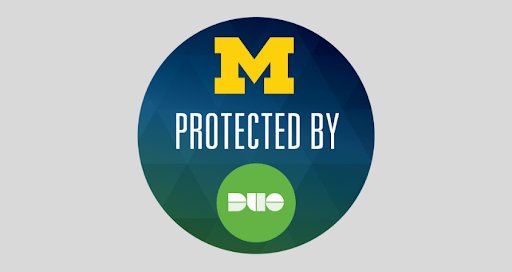 You can now use Duo two-factor protection with the U-M Virtual Private Network (VPN). With faculty, staff, and students already benefiting from Duo two-factor authentication at Weblogin, ITS is working to further extend this protection to other university services.
Try it now on your personal computer
Visit ITS: Getting Started With VPN and choose your operating system to get VPN profiles—plus the Cisco AnyConnect client—that prompt for Duo at login. Profiles incorporating Duo are available for macOS, Windows, and Linux. The Duo "Remember me" feature does not currently work with AnyConnect on Mac or Linux; it does work with AnyConnect on Windows.

Connection profiles without Duo will remain available for now for those who want to continue using them.
MiWorkspace and other managed computers updated for you
Mac. If you have a MiWorkspace Mac or a Mac managed via ITS's Managed Software Center (that is, those managed via Izzy), you do not need to do anything at this time. Watch for a communication from MiWorkspace or your unit IT provider about what to expect.
Windows. MiWorkspace Windows computers are equipped with an "always on" VPN-like client called DirectAccess that does not require separate client software. If you use the Cisco AnyConnect client on a MiWorkspace Windows computer, you will receive updated connection profiles with Duo.
Duo to be required for VPN later
ITS anticipates Duo for VPN will be required at some point during the 2020-21 academic year.
ITS will work with U-M units and communicate extensively before making use of Duo for VPN access required.
Retirees and alumni—who use a different, designated connection profile—will not be required to use Duo for VPN.