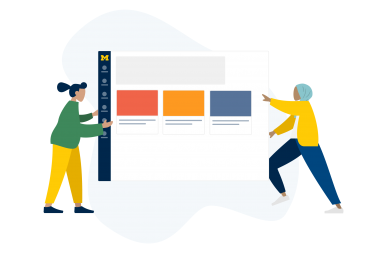 To support the university community in preparing for the fall term, the Center for Academic Innovation (CAI) has just launched Online Teaching at U-M, a new website hosting resources and learning experiences to help faculty and instructional staff learn to teach effectively online.
While the original focus of CAI's work was intended to extend U-M's reach and impact through new online and hybrid programs, the challenges brought on by the COVID-19 pandemic motivated the center to expand upon these resources, create more flexible and scalable options, and also provide continuous access to faculty and instructional staff.
"While there is plenty of uncertainty ahead, we know we need to prepare our community to shift from emergency remote teaching to more resilient pedagogical approaches," wrote James DeVaney, associate vice provost and CAI founding executive director, and Sarah Dysart, CAI director of online and hybrid programs in a blog post announcing the site.