You have probably heard that the University of Michigan was selected to host the second of three 2020 Presidential Debates. The event will take place on the Ann Arbor campus on October 15, 2020, and will be staged largely on the university's athletics campus, with Crisler Center as the main stage.
In addition to the Crisler Center, other locations on south campus will host the Commission on Presidential Debates (CPD), law enforcement and other governmental personnel, political party staff, as well as a media filing center to accommodate hundreds of media outlets that will cover the event.
But the fun won't be confined to the athletic campus. There will also be six "game day" style stages on central campus to accommodate live broadcasts by ABC, CBS, NBC, CSPAN, CNN, and Fox News. In addition, at least five watch party locations will be available for students, faculty, staff, alumni, and donors to view and participate in this historic event.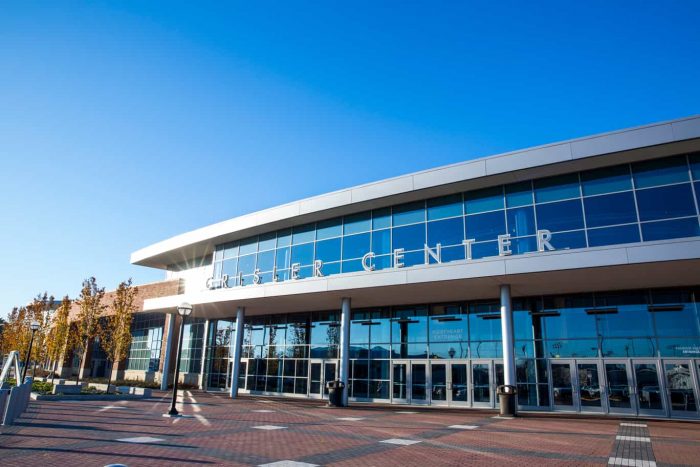 ITS to provide tech support
As you can imagine, hosting such an event requires an incredible amount of technology—and that's where ITS comes in. As the central IT provider for the university, ITS is tasked with providing the technology infrastructure that will be required to pull off a successful event.
A Debate Steering Committee will provide overall guidance for the event. VPIT/CIO Ravi Pendse is representing ITS on this committee. There is also a Debate Core Committee that is tasked with handling the nuts and bolts of this complex logistical effort. ITS has three members on the core team including: Andy Palms, executive director of infrastructure; Bob Jones, executive director of support services; and Amy Peters, assistant director of business services. In addition Sol Bermann, executive director of information assurance and chief information security officer, will coordinate with members of the Department of Homeland Security, Federal Bureau of Investigations, United States Secret Service, and other local, state, and federal agencies on IT security matters.
ITS will be responsible for providing:
Network: hard wired, WiFi, internet capability for the debate campus
Telephone
Television
Cellular
Hardware: computers, printers/copiers/fax machines, and common peripherals
Desktop support
IT security support
Creation of a student volunteer management system
Planning already underway
Meetings between ITS teams and the CPD began early this year. This gave ITS staff the opportunity to learn what it means for the university to host a successful debate. Teams are now in the process of putting together design/project plans to execute the work that will be needed in time for our campus to take center stage in October.
One of the most challenging aspects of this work will be building the infrastructure for network and phone service in a 40,000 sq. ft. tent in the parking lot of Crisler Arena. This tent will house the media filing center, which will be the temporary home to over 1,000 media staff who are expected to provide coverage of the debate. To add to the excitement, this work will be sandwiched between two U-M home football games against Penn State on October 3, and Purdue on October 24.
Palms stated, "This will be an exciting event for people in IT. It's going to be a lot of work and it will be extremely hectic as we get closer to the debate. What I have heard from previous debate hosts is that it's the most difficult, time consuming, wonderful event they've ever taken part in. I'm really happy we're able to support this experience with democracy."