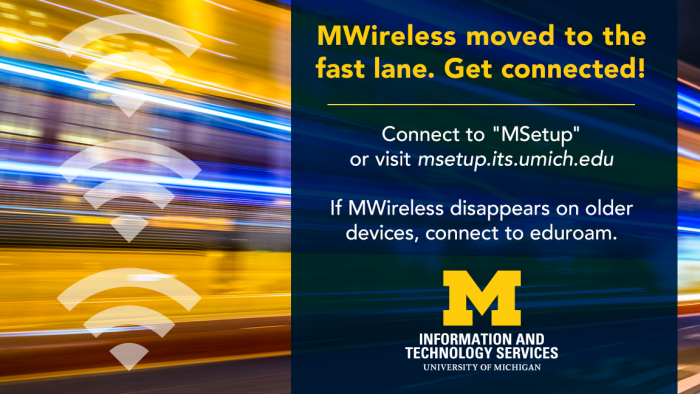 A change to MWireless is rolling out this month that will improve the wireless experience for most people on the UM-Ann Arbor campus, without a change in how they connect.
ITS Infrastructure is disabling the crowded 2.4GHz frequency from MWireless, which will move most devices to the faster, more reliable 5GHz frequency that is now pervasive across campus. Learn more about the change on the ITS website.
The rollout builds on work that has already been successfully done in ITS buildings and Michigan Ross in 2018, as well as in Hatcher and Shapiro Libraries and the Duderstadt Center in late 2019.
What the change means for campus
Most devices, including MiWorkspace computers, already use 5GHz WiFi, and will continue to do so with no interruption. For some older devices, such as the Apple iPod Touch and Amazon Kindles that only support 2.4GHz, MWireless will disappear from the list of available networks. Those devices can still get online using eduroam, a network that works exactly like MWireless for university students, faculty, and staff.
Getting connected
Campus newcomers and anyone who has never connected to eduroam is encouraged to use MSetup to configure their devices for university networks. This can be done by connecting to the network called "MSetup" from the list of available wireless SSIDs, or by visiting https://msetup.its.umich.edu if the device is already connected.
Questions or concerns? Contact the ITS project team at WiFiFrequencyChanges@umich.edu.