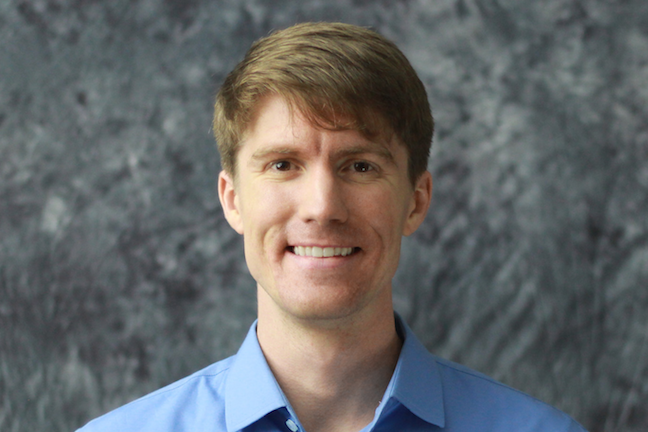 Michigan IT News recently talked with Nathan Magyar who works as a user experience designer at the Center for Academic Innovation (AI). Magyar takes the AI mission to heart: to design the future of learning through research, innovation, experimentation, and iteration.
Tell us about your role.
As a user experience (UX) designer for the Center for Academic Innovation, my role spans three main areas: research, design, and development.
On the research side, I conduct surveys, interviews, and brainstorming sessions to flesh out ideas for new projects or features. I also administer usability tests with people who use our applications to evaluate newly prototyped designs and receive feedback on their ease of use.
When it comes to design, I sketch out ideas for new or improved interfaces and ultimately turn them into realistic mock-ups. In doing so I also craft visual assets, such as logos and icons, and brand guidelines to ensure the interface and any associated promotional materials are aligned.
And for the web development aspects, I am responsible to bring my designs to life using HTML, CSS, and JavaScript.
What are your guiding principles?
There are four guiding principles that most heavily influence my daily work.
First: Avoid jumping to solutions. When faced with a problem, it's easy to dive immediately into fixing it. Doing so, however, can unintentionally limit the solutions you come up with, so it's important to thoroughly explore and define what's not working first.
Second: Iterate, iterate, iterate. During the design phase, I regularly seek out feedback from coworkers both within and outside the project team, as well as actual students here on campus. I then incorporate their thoughts into a new version of the design, repeating this process until I feel confident that the interface I've created is intuitive and pleasant to use.
Third: Keep users at the center of your process. As the primary users of our web applications, U-M students, staff, and faculty play an integral role in the design and evaluation of an application. By inviting them to participate in usability tests, focus groups, surveys, and interviews, we are able to better understand their needs and create the most useful websites possible.
Fourth: Design with accessibility in mind. From using sufficient color contrast and large-enough font sizes to ensuring a webpage is navigable via keyboard shortcuts, I regularly pause during the design and development phases to make sure the application is accessible to users with a broad range of abilities.
How does your work impact the university?
The web applications that I create alongside other members of the Academic Innovation software development team have a direct impact on both student and faculty experiences on campus. For example, "eCoach," provides students in large lectures with a more personalized course experience. "ViewPoint" offers a digital space for students to engage in educational role-playing simulations, such a passing a bill into law. And "Problem Roulette" is a study tool that students can use to review previous test questions in preparation for upcoming exams.
As a user experience designer, I have the privilege of contributing to our office's ongoing effort to elevate students' higher education experience and support faculty's innovative teaching methods.
My work also affects a newer and growing sector of the Michigan community—online learners. As the primary user experience designer for "Gamut," a suite of e-learning web applications that can be integrated into any online course, I work with learning experience designers, software developers, and behavioral scientists to enhance online learners' educational experiences.
Example applications include the Gamut Gallery, which allows all learners in a course to easily browse and provide feedback on each other's work, and the Gamut Recommender, which collects information about the learner through a distributed set of survey questions and ultimately generates custom content/recommendations based on that input. Read Magyar's blog post about the suite of web applications: Say 'Hello' to Gamut.
What do you consider when you're working with users to improve design?
When I'm looking to improve an existing design, I try to achieve a holistic understanding of its strengths and weaknesses, places where it's causing confusion or frustration, and any opportunities for new functionality.
In addition to these traditional aspects of user experience, I also consider what the user's learning-related needs and goals are, which is something unique to my position as a UX designer of educational technology. Outside of the education field, user experience designers need only concern themselves with whether or not the interface is intuitive and enjoyable to use. UX designers of educational technology, however, have to make additional considerations about whether or not the interface supports the learning process for the user. Do users (learners) have what they need in order to learn and master the content in front of them? Is the interface intuitive enough that learners can focus on learning the course material rather than learning how to use the application itself?
You enjoy staying up-to-date on the latest technology and trends. What do you look for in choosing to implement new tech or trends into AI's ecosystem?
Two things that I value most in new technology are modularity and flexibility. In the past two years, Academic Innovation has increasingly adopted a JavaScript framework called Vue into many projects, which allows us to create an even more dynamic and interactive experience for users. We chose this tool because it can be used in just one small section of a much larger application, or it can serve as the foundation for an entire site. The component-based architecture it relies on also allows the code we write to be more reusable and reconfigurable, thus enabling us to work more quickly and efficiently.
What do you enjoy most about your job or what gives you the most satisfaction?
I particularly enjoy getting to implement my designs with HTML, CSS, and JavaScript. It's incredibly satisfying to take something that was once just a concept or a static mock-up and make it "real." Of course there are also a lot of little bugs and hiccups that surface along the way, challenges that I didn't expect or anticipate while putting the design together. But solving those issues and successfully arriving at a polished, working product that actual people are using is very exciting and rewarding.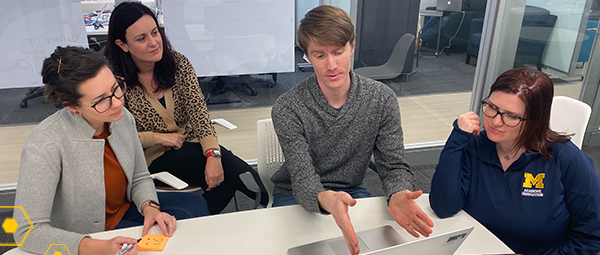 I also enjoy mentoring the student fellows who work with our UX team. Having been a UX design fellow with Academic Innovation myself before joining the team full-time a few years ago, I have a unique understanding of their experience and thus work hard to ensure they're getting valuable, relevant training that will prepare them for the professional world.
Along the same mentoring lines, I derive satisfaction from teaching web development to other Academic Innovation team members. I've held several weekly workshop series that spanned two to three months, starting with the basics of the Vue framework, slowly building up to more intermediate concepts, and ultimately creating a production-ready project. These workshops have been attended by full-time team members and student fellows alike from both technical and non-technical disciplines. It has been great to see their skills grow over time and I look forward to watching the use of Vue grow in Academic Innovation's applications in the near future.
How did you get into this type of work?
I have always had an interest in people and their behavior, visual design, and foreign languages. I hold a BFA in Acting and a dual BA in Organizational Studies and Spanish from the University of Michigan, as well as an MSI in Human-Computer Interaction, also from U-M.
After exploring career possibilities as an actor at the Purple Rose Theatre Company in Chelsea, Mich., and an English as a Second Language (ESL) teacher in Ulsan, South Korea, I developed an unexpected interest in programming and web design. I eventually discovered the field of user experience design, which perfectly incorporated my longstanding passions of psychology, design, and languages (the latter of which manifests itself in the programming side of my current role).
What do you do in your down time or what do you do for fun?
In my free time I enjoy running and biking (I've run two half-marathons and cycled 4,300 miles coast-to-coast across the U.S.), working on my own web development side projects, getting in touch with my crafty side via X-Acto knife paper-cut art, trying new recipes in the kitchen, and playing with my very energetic six-month-old Vizsla puppy, Nola.