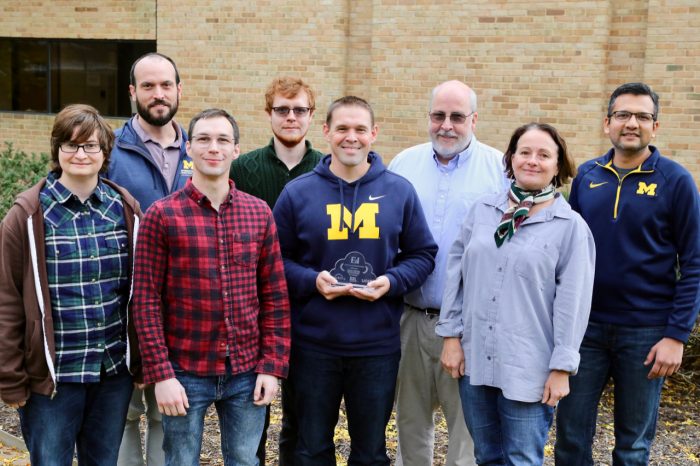 Congratulations to the ITS Infrastructure team for receiving the 2019 E&I National Cloud Leadership Award for Collaboration along with the University of Minnesota and Internet2 for its work on network automation and cloud connectivity. The award, given to institutions that work together to increase awareness and use of cloud computing, was presented at the annual Educause conference in Chicago Oct. 14–17.
In 2018, U-M partnered with Internet2 to propose a Higher Ed Network Automation and Cloud Connectivity workshop that was hosted by U-M in Ann Arbor. The event was very successful and created a community to help share challenges and solutions for network automation and cloud networking.
In 2019, U-M partnered with Internet2 and the University of Minnesota, which hosted the second workshop. That event drew 66 attendees from over 27 institutions with a desire to collaborate and share information on this important technology. The three-day workshop focused half its time on network automation practices and half on cloud connectivity.
"Collaborations such as these are a huge value to institutions trying to navigate a constantly changing landscape of public cloud environments and changing technologies," said Andy Palms, executive director of ITS Infrastructure. "Bringing higher education institutions together to share challenges and solutions allows us to learn from one another, saving time and minimizing risk."
Special recognition to ITS staff members, Alok Vimawala, Eric Boyd, James Ostrander, Nick Grundler, Kris Steinhoff, Amy Liebowitz, Matthew Chess, Jamie Laundree, and Kenny Moore.