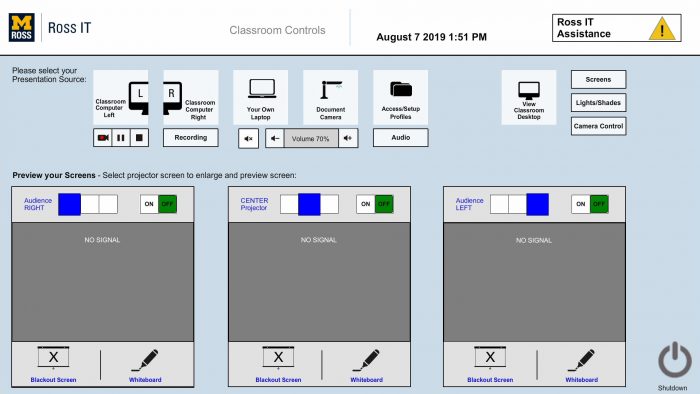 Ross IT proudly announces the deployment of a number of changes to the classrooms within the Ross building. Partnering with our colleagues from ITS, we enhanced the classroom experience for the Ross community.

We were able to implement AV over IP (AVoIP) using existing network switches without the need for provisioning additional hardware. We are the first college on campus to deploy AVoIP throughout an entire building of classrooms. In addition, AVoIP allows us to decrease our energy usage while increasing the functionality of the equipment.

Students and faculty will experience improved video and audio within the classrooms. We achieved this with new digital sound processors (DSP) which more accurately tune the audio within the classrooms, while the new digital signal path improves the images from the projectors.

We created an intuitive design for the interface, upgrading the classroom experience for instructors and guest presenters. We also increased the amount of available floor space by combining the desk and the podium previously located in the classroom into one "sit and stand" desk.