ITS Teaching and Learning is excited to announce that Interactive Video Quizzing (IVQ) has been added to the MiVideo suite of tools. Now available in Canvas, Blackboard, and Mediaspace sites like www.mivideo.it.umich.edu, IVQ turns video viewing from a passive activity into an active learning experience, engaging viewers with multiple choice, true/false, and other question types.
IVQs can be used to increase engagement, test knowledge and retention, gather data, and more.
In Canvas or Blackboard, an instructor can publish an IVQ with answer feedback, enabling students to take an active role in their own learning experience. IVQs can also be published as graded assignments or embedded on an external webpage. The open-answer question type is great for collecting opinion-based feedback. Reflection points, which pause the playback, allow the creator to add textual context.
IVQs can be created from any audio, video, or YouTube video in your MiVideo My Media library. Creators can also control the viewer's experience:
Offer question downloads as a PDF study guide
Allow retakes and/or answer review
Supply hints and incorrect answer rationales
Allow or prevent correct answer display
Prevent question skipping and/or seeking forward in the video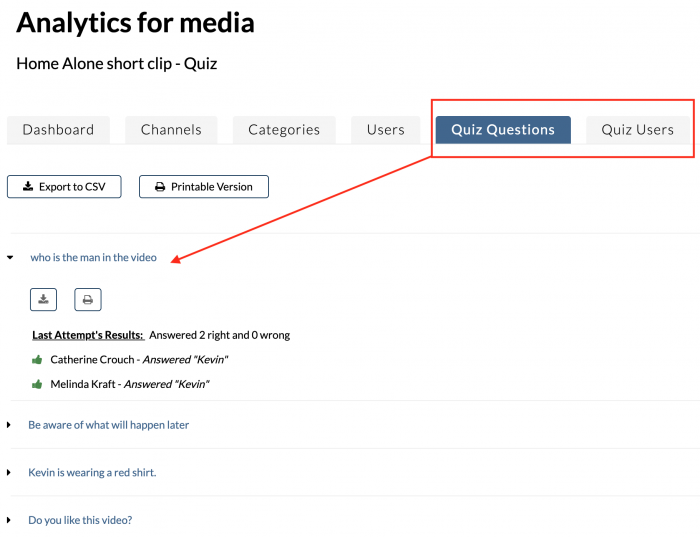 Media creators can monitor student understanding of the video lesson by viewing and downloading responses from the media's Analytics page. The Questions view is a quick way to see how well the group is performing collectively, while the Users view gives insights into each individual's performance.
Interactive Video Quizzing is a great addition to the MiVideo suite of media creation and editing tools. MiVideo, powered by Kaltura, is U-M's streaming media service. It's free to use by all U-M faculty, staff, and students. To learn more about MiVideo, please visit our webpage: its.umich.edu/mivideo.