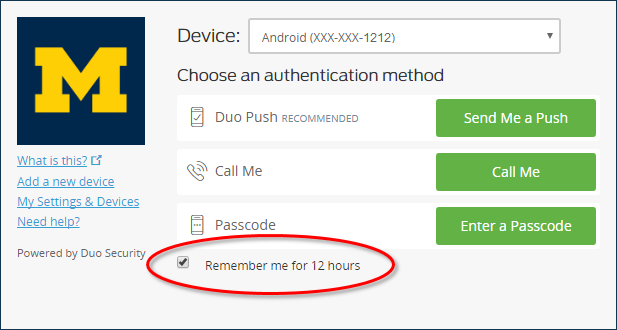 You can reduce the number of times you have to use Duo two-factor authentication when logging in at U-M Weblogin by checking the Remember me for 7 days box. With this feature, you will not be prompted for a two-factor authentication method at Weblogin over the next seven days, as long as you use the same computer and web browser.
The Remember me checkbox is listed below the two-factor authentication methods and needs to be clicked first—before you click one of the green authentication method buttons—if you want to use it.
If Remember me does not work as expected, try these troubleshooting tips:
If you have Duo set up to automatically send you a push notification or phone call, the Remember me checkbox is grayed-out. In this case, click the Cancel button on screen (in the blue bar at the bottom during authentication) to stop the automatic push or call. That allows you to use the Remember me checkbox.
Remember me relies on browser cookies to work. If your browser settings block third-party cookies, you need to add an exception in the browser's security settings for third-party cookies coming from Duo Security. See the detailed help on this topic from Duo for more information.
If you want to reset the Remember me setting before the seven days is up so that you will be prompted for a two-factor authentication method the next time you log in, clear your browser's cookies.