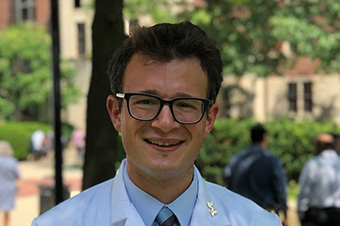 First-year medical student Jacob Lowy has moderate-to-severe hearing loss in his right ear. Working together, HITS, ITS, and other units on campus leveraged IT that has transformed his experience—including adding captions to lecture videos and setting up realtime captioning (CART) during lectures.
Lowy realizes that when something isn't visible, it's not always easy to understand. This often happens with invisible disabilities—and it's not anybody's fault or due to malicious intent.
"I was a little afraid to reach out to Services for Students with Disabilities (SSD). I was concerned that asking for accommodations would impact my future and my professional goals, so I didn't disclose my hearing loss when I applied to medical school."
Lowy eventually sought assistance and everything fell into place quickly. "The way that Michigan has treated me has changed my life. My experience here has made me less afraid to ask for accommodations."
Read the full article about how four U-M departments leveraged IT to transform a medical student's experience.