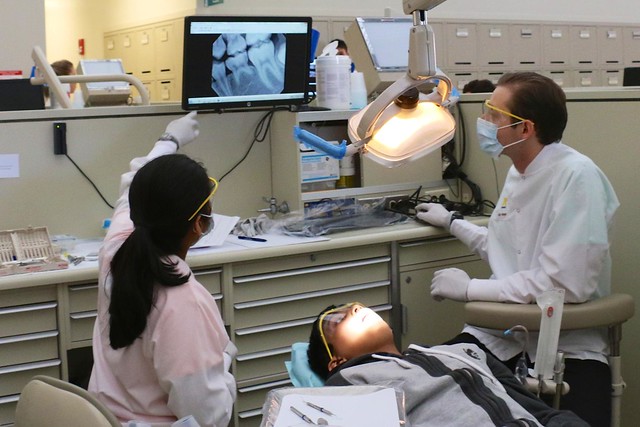 Electronic health record (EHR) systems are integral in the delivery of healthcare. Faculty, students, and staff at the School of Dentistry (SoD) rely on an EHR to provide high-quality patient care, as well as for the education of students pursuing careers in dentistry, oral surgery, and dental hygiene.
A mission-critical challenge
The School of Dentistry uses axiUm electronic health record software to manage patient records. It is critical to the daily functioning of the school's teaching, learning, research, and patient care missions. So, when the school reached out to the Information and Technology Services Database Administration (ITS DBA) team to help upgrade its Oracle database environment, both teams knew it was a mission-critical project. According to Cassandra Callaghan, director of dental informatics for SoD, the client-server health record system needed to be upgraded to maintain critical patient care and academic activities before major clinic renovations at the school start in January, 2020.
The MiDatabase solution
MiDatabase was a potential solution to expedite the Oracle databases upgrade, although the Dental School had concerns about the performance of their application on MiDatabase, which runs on a virtual machine. The current application was running on dedicated infrastructure at the Michigan Academic Computing Center (MACC), that included a direct fiber line. A proof-of-concept was proposed with a copy of their current version placed on the MiDatabase solution. Power users were asked to test functionality and performance. The test was a success and SoD decided to migrate their patient data repository to the ITS MiDatabase Oracle environment.
The ITS DBA team then worked to assess and accommodate the unique needs of the school to complete the migration of their EHR system. The team obtained a server that is larger than the capacity of the standard MiDatase service, set up the environment, and ported the data into an upgraded instance of Oracle. ITS worked collaboratively with SoD to accommodate their project timelines with the creation of multiple instances and a production launch over a holiday weekend.
A collaborative success
The school is enthusiastic about the project results. "The MiDatabase solution saved us months of effort during our upgrade," Cassandra Callaghan, director of dental informatics for the School of Dentistry, said. "I cannot state strongly enough my appreciation for the flexibility and support ITS has shown us. This is a great example of how Michigan IT can collaborate to support mission-critical applications."
ITS's Gurleen Kaur, senior database administrator, served as the primary DBA, and Kasthuri Ilankamban and Dave McLaughlin, database administrator leads, provided guidance and technical assistance. SoD's Willy Wangsa, application programmer, worked hand-in-hand with ITS resources. Roger Gillie, director of application services, and Matt Vuocolo, manager technology services, provided guidance and technical specifications of SoD needs, and Cindy Stevens, project manager, was responsible for overall coordination.
Amber Mackenzie, database service owner and data solutions director, ITS Information Quest, said the School of Dentistry and ITS have a history of positive working relationships. The DBA team provided consultative support for past database upgrades and MiDatabase service has supported the school's data warehouse, housing legacy patient records since 2016.
What is MiDatabase?
MiDatabase is an ITS-managed data hosting service that runs on the MiServer virtual server environment, a centrally managed cloud environment hosted on campus that reduces the overhead involved in computing services locally. MiDatabase handles demanding production workloads and intensive application processing without system degradation. This service allows schools, colleges, and units to be mission-focused while ITS ensures that data and systems secure and available. MiDatabses are monitored, patched, and backed by ITS, taking the burden to maintain the database off of the units ITS supports.
Learn about the features and benefits of the MiDatabase service. Contact Amber MacKenzie with any ideas, thoughts, or feedback.