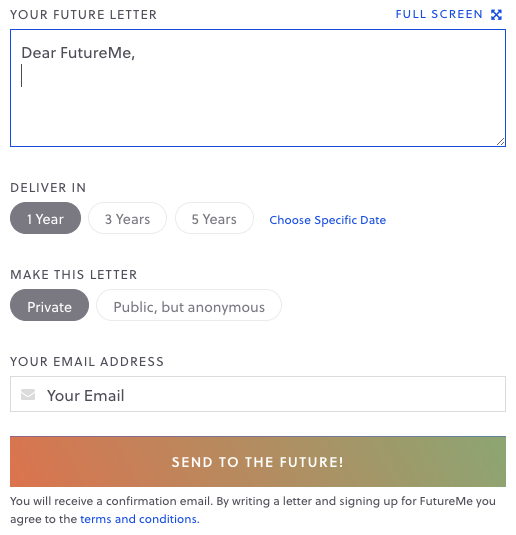 This month's tip is a free, online service that enables you to schedule emails to yourself or others. FutureMe can remind you to do something, provide you with a quick confidence boost before a big presentation, be used as a diary, to make predictions on what the next iPhone is going to be named, or even to schedule an email to someone else (requires an account). The service has been around since 2002 and has been publicized by companies like CNN, NPR, BBC, and many others.
Once you have scheduled the message, you may delete it, update the email address, and change the private/private status, but it may not be edited. Unlike Gmail's scheduling feature, this service acts as more of a time capsule or motivational tool than something you would use to send a reminder about Thursday's meeting. And if you elect to make your letter "public, but anonymous" then it will be included in the public letters section of the website.
Get creative and send a smile to your future self! 😄
---
Have a cool app, tool, or tech tip you'd like to share? Contact Chase Masters. Please note that Tech Tips are personal recommendations and might not be officially endorsed or supported by U-M.