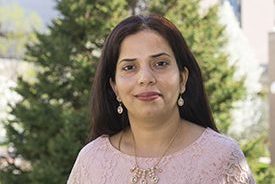 Michigan IT News recently interviewed Health Information Technology and Services staffer Mahathy Kuchibhatla, M.S., about her work building and managing the Patient Portal (MyUofMHealth.org). An undergraduate project that used Artificial Intelligence got her interested in computers that has led to a 10-year career in IT that improves patient engagement.
Tell us about your background.
I have a master's degree in information systems from Eastern Michigan University. I earned my undergraduate degree in mechanical engineering while I was in India at a college affiliated with Jawaharlal Nehru Technological University. It was in my fourth year of undergrad training that I got interested in computer information systems. We worked on an artificial intelligence project focused on conserving energy by automatically switching off the A/C unit depending on the room temperature.
My strong performance during my in undergrad work helped me fetch a two-year fellowship at Eastern Michigan University to pursue a masters in information systems. During my time at EMU, I received an Outstanding Academic Achievement Award and an internship at Pfizer to study/work on projects troubleshooting code and smaller enhancements to existing projects. I became a consultant at Pfizer after I completed my master's degree.
I did web development at Michigan Medicine for few years after Pfizer. At the same time, I worked as a part-time faculty member at EMU, teaching undergraduate courses on database concepts. With new additions to my family (I have 3 kids—one 13-year-old and 8-year-old twins), I wanted to pursue a different opportunity. Electronic medical record (EMR) implementation was happening at Michigan Medicine, then the University of Michigan Health System. I reached out to my manager and she allowed me to take up a new challenge.
I have this to say: the managers I have had were very encouraging. They played an important part in my career.
Tell us about your role with HITS.
I am a business systems analyst senior with HITS, and have been supporting and maintaining the MyUofMHealth.org (Patient Portal) application for the last six years. It is a complex application that requires coordination from multiple HITS teams like Health Information Management, Compliance, MiChart Technical and Billing, and MiChart teams. I am certified in three Epic modules: EpicCare Ambulatory, Epic MyChart module, and EpicCareLink.
What is the patient portal?
The portal is the fully integrated, patient-centric electronic health record (EHR) system used by over 30,000 members of the Michigan Medicine community. It is contracted from Epic, the vendor that provides the software and support services that enable MiChart to function.
Patients can reach their providers, check on upcoming appointments, pay bills, check on immunizations, or even attend to their health using the virtual visits, or sometimes called E-Visits, from the comfort of their own homes. Building and managing the patient portal involves accessing multiple applications from within the medical record known as MiChart. I love working with several HITS outstanding teams and team members on a daily basis.
What are some career highlights from working on the portal?
I'm pleased to say that more than 360,000 patients are active on the portal, and this number is growing! On average, 3.5 million dollars is collected each month in bill payments. In 2018, we collected over 4.4 million dollars—the highest so far. Last year, we achieved another milestone: our 500th E-Visit.
What motivates you?
I love working on patient portal enhancements and investigating web server issues like troubleshooting patient portal issues. It is uniquely challenging. The issues most of the time is hard to replicate, because of some variance to things like browser or the device the patient is using, and how they are trying to access the portal (online or mobile app). Trying to resolve complex issues is something I really enjoy, though. Some of the challenge comes from the several instances of the servers (DEV, TST, and PRD). Some issues only surface in PRD due to firewall configuration that is unique in PRD. In other words, the solution works perfectly in TST but fails in PRD. In that case, I enjoy digging in to solve the problem.
What is the best part of your job?
My career has been an exciting journey. Multiple MiChart applications are involved to support the patient portal, and I love working with several outstanding HITS teams. The teams are filled with very talented people, and from whom I have learned (and am still learning). That helps me to be a better professionally and personally. We often hear from patients that the portal enables them to live better—this is the best part of working in healthcare IT.