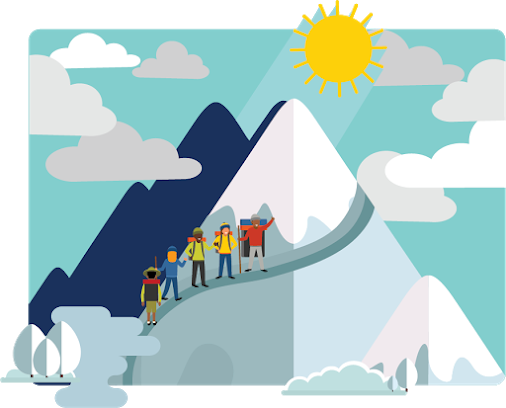 ITS has embarked on a journey to determine which of the hundreds of applications that we manage should be candidates for migration to the cloud. Unlike other institutions, U-M is not being driven to these decisions by a need to free up data center space, or many of the drivers currently faced by other universities. We have the luxury of being very deliberate about these decisions.  
So, how do you evaluate applications to determine which ones might benefit from a migration to a cloud environment? To climb this mountain, you need a Sherpa. Enter the ITS Cloud Decision Framework & Application Roadmapping Project (CFAR). Choosing the best cloud adoption strategy can be a challenge. The CFAR project will assist ITS service owners and service managers in identifying a cloud adoption strategy and a tactical migration plan for their applications. The project will also provide ITS executive leadership with a master cloud migration roadmap that includes timelines, captures application interdependencies, and risks.
The CFAR project kicked off in January, 2018 and is scheduled to complete its work by July, 2018. The core project team is composed of a small group from across the ITS organization. The team has a combined knowledge and proficiency in ITS applications, including systems architecture, data and system integrations and dependencies, business processes, and peak system dependency cycles.  
So what has CFAR accomplished so far? The team started with outreach to service owners for over 400 applications/services that ITS currently manages. Initial interviews were conducted to determine current state, including dependencies, integrations, and architecture drawings.
The team found that they needed a tool to house all of this information in a manageable format….so they created an application, affectionately known as the Dependegrator. The Dependegrator allows the team to see every dependency and integration upstream and downstream for each application or service. The team has completed an initial load of data collected in the Dependegrator and is in the process of validation and mapping of dependencies.  
Then it was on to the creation of the Decision Framework interview questions. The team ran pilots with several service teams to fine tune the questions, and create a Google form that will walk them through several decision points to arrive at a recommendation. Check out the Cloud Decision Framework process flow.
The goal of the interview is to gather the necessary information to determine which of the 6 Rs the application or service falls under. The 6 Rs are: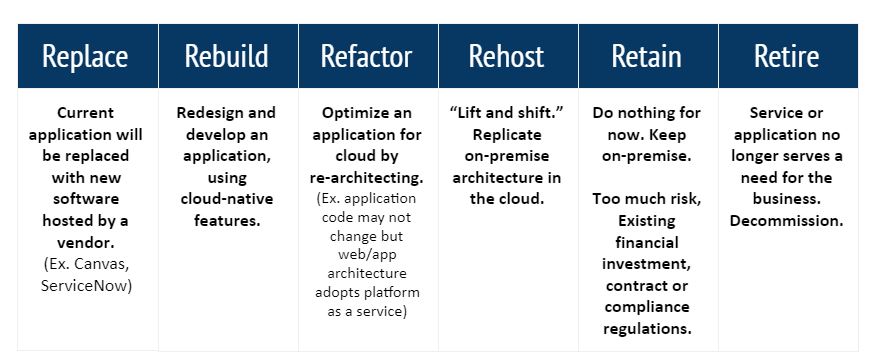 After this information is captured it will be on to the analysis phase of this project, which will deliver roadmap recommendations for ITS applications. Stay tuned for more information on the CFAR project.