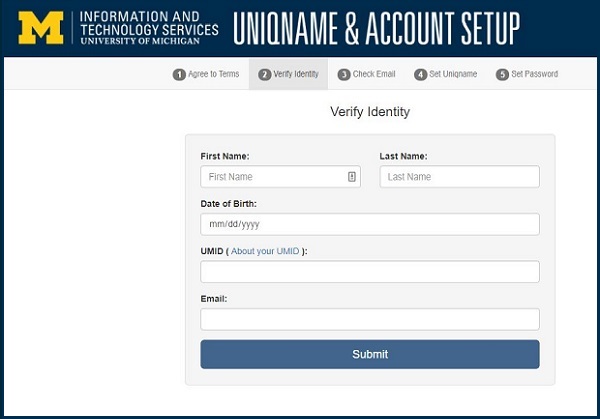 In early February, ITS retired its oldest running production system—the Uniqname Service (UNS). Implemented in 1992, UNS was running on outdated hardware with an old homegrown "UMCE Linux" operating system.
Due to high risk, the system had not been shut down or upgraded since 2012. "We were concerned about the fragility and technical debt associated with the homegrown UNS system," says Vasilios Pliakas, systems and middleware programming manager for ITS Infrastructure Service. "In addition, all of the original system engineers were no longer with the university."
According to Pliakas, the UNS team initially planned to move the system to a virtual machine in early 2017. After six months of unsuccessfully trying to migrate the outdated system, they realized they would need to build a new one. Technical experts from the Identity and Access Management (IAM) teams wrote software within MCommunity to handle uniqname creation, modification, and deactivation, as well as a user-friendly online interface for ITS Service Center staff who support these activities on behalf of faculty, staff, and students.
UNS was the second to last ITS system running in the Arbor Lakes Building 3 Data Center (ALDC3), after most other ITS systems relocated to the Michigan Academic Computing Center (MACC) in 2017. The new service is now running on a current operating system, on software that can be easily maintained, monitored, and upgraded.
"The new UNS service will be more reliable and robust, which will provide a better overall experience for campus users," says Pliakas. He adds that the change also reduces the number of systems ITS Service Center staff need to use for support, eliminates the technical debt accrued over many years for IAM systems, and ensures that the university's IAM ecosystem no longer depends on a legacy system and the ALDC3.
Special thanks and kudos to the following teams for their contributions to the project:
IAM Systems Middleware Operations Team

IAM Line-of-Business Team

ITS Storage Team

ITS Service Center