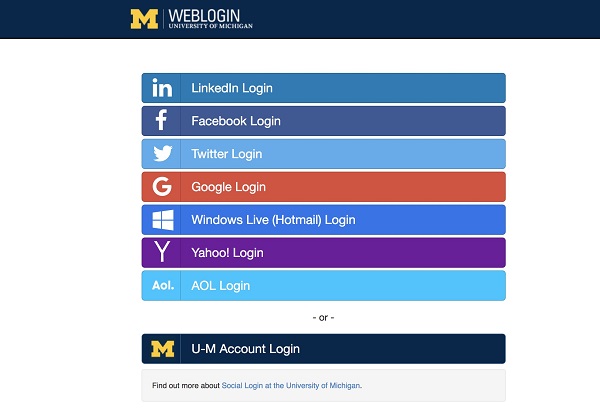 A new Identity and Access Management (IAM) service is a gamechanger in helping the Alumni Association fulfill its mission to connect alumni with services that nurture an ongoing relationship with the university. "Using social login allows the Alumni Association to overcome the single biggest barrier for providing alumni access to our online services and alumni benefits," says Andre Zoldan, senior director of Technology at the Alumni Association, one of two campus units that successfully piloted social login this fall.
"We are finally able to provide a modern, easy, and self-serviceable method to authenticate to our environment, while at the same time reduce the number of support calls." — Andre Zoldan, senior director of Technology at the Alumni Association
As a key initiative of the Enterprise Identity and Access Management (EIAM) Program, the social login pilot laid the groundwork to expand account creation options to allow U-M affiliates such as prospective students, parents, donors, patients, external researchers, and faculty to use their social identities (Google, Facebook, Yahoo, etc.) to log in to certain U-M provided services.
Allowing all alumni to easily access U-M resources has long been a challenge for the Alumni Association. Individuals who graduated prior to 1991 do not have a uniqname for university identity and authentication. The social login option now allows them the ability to access alumni services without creating a new and separate account. It also benefits the Alumni Association.
"The ability for alumni to easily authenticate to our online portals offers us the opportunity to personalize their experience, while at the same time learn more about their interests and preferences, which in turns makes their experience more relevant and their connection to Michigan stronger," says Zoldan, who is adding social login as an authentication option to other applications in the Alumni Association portfolio.
Chris Hable, product manager for Identity and Access Management within ITS, says, "We want to make it as simple as possible for individuals to gain appropriate access to U-M resources, and the new social login option will help us do that for certain authentication use cases."
HathiTrust at the University Library was another pilot group. Sandra McIntyre, director of Services and Operations, says, "In the HathiTrust Digital Library, social login allows us to offer selected services to users who are not affiliated with our member libraries. We are pleased that any user can now use a familiar social account to login and create, save, and share personalized collections of HathiTrust books and documents."
Social login is now available to all U-M units, and ITS is seeking partners for 2018 implementations. For additional accomplishments of the Enterprise Identity and Access Management Program, see the News & Updates on the EIAM Program website.
---

Lindsay Hendricks (ITS Communications) contributed to this story.