The first day of class is one of the biggest days on the IT calendar. Lots of planning and preparation are done to get ready for thousands to descend on campus—will all of our systems handle the increased volume? Well, this year the first day of class was quieter than days past, thanks to the generous support of the Office of the Provost to fund the necessary infrastructure, and the hard work of Facilities and Operations and ITS Infrastructure teams.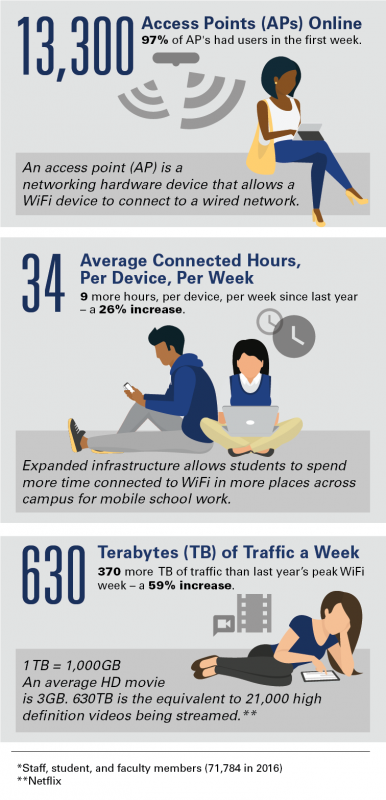 Let's look back in time. Were you on campus the first day of fall 2015? Although most of the things we expect at the start of the new term were in place—students bustling around Ann Arbor, faculty in classrooms preparing to greet students—there was one very important thing missing: WiFi.
Suddenly, students lit up the ITS Twitter account, @umichTECH, wondering what was going on. Calls started coming in fast and furious to the ITS Service Center, reporting no WiFi connectivity on the Ann Arbor campus. Why bring this up? To show just how reliant campus has become on our ability to connect our devices from anywhere on the Ann Arbor campus.
This technology continues to grow and change to the point that, according to Campus Technologies, "colleges and universities are amongst the most demanding wireless environments built today." The main driver: Good WiFi is important in "attracting and retaining on-campus students" and keeping students engaged on campus, all of which has an impact on "the university as a whole."
Flash forward again to fall term 2017. Comparing WiFi from the first week of fall 2016 and 2017 illustrates the growing demand. (See infographic.)
But what are students doing to create so much data transfer? Some might think that the primary use for students is connecting with friends through social media, but that is only part of the story. Students use this technology in every aspect of their lives. Increasingly, faculty and students at U-M are committed to a digital lifestyle and learning environment, whether that means connecting to Canvas for course information or new digital learning platforms connected through Academic Innovation, streaming videos assigned by professors, or collaborating with study groups via BlueJeans and other video conferencing apps. Our students are digital natives who work productively in a multitude of these environments.
"Education has definitely gone digital and also mobile."
Similarly, students are increasing their demand for technology resources that can be used anywhere and on all of the devices they bring to campus. According to Jeff Wright, director at the Housing Information Technology Office, U-M Central Student Government has requested that WiFi be added to the Diag. This demand is transforming one of the longest established campus technology resources—the computing lab. Since 1946, when the first laboratory offered computer access to all U-M students regardless of study area, students were required to visit a computing lab to use a university computer to access specialty software for coursework.
This year, ITS took the first step to free university-licensed software from physical computers in Campus Computing Sites locations. AppsAnywhere, an app store-like tool, is in place today on Windows computers at Campus Computing Sites locations. Next year, students will be able to use AppsAnywhere to "stream" applications to their personal devices anywhere on and off campus. Printing at Campus Computing Sites is also changing to keep pace with student demand to use university resources on personal devices. Students can use the new MPrint Mobile App on a smartphone to release documents to university printers supported by ITS—skipping the need to use a Sites computer or wait in line to select a printer at a Sites location.
"Education has definitely gone digital and also mobile," says Wright. "Students don't have to be sitting in their dorm room or in the library to get things done, they can be anywhere."
---

Patty Giorgio (ITS Communications) contributed to this story.

Lindsay Hendricks (ITS Communications) contributed to this story.