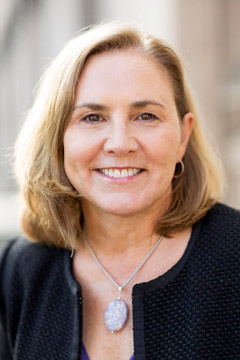 Ever since I was a child, September has been my favorite month. I loved returning from summer vacation, excited about everything that I would learn and experience in the new school year. I suspect that is probably true for many of you, as well. While the last weeks of summer are one of the busiest times of the year for those of us in IT, I still feel that same sense of excitement when students and faculty return to campus, bringing their energy and vibrancy. I appreciate all the work that takes place across our campuses to make this happen.
As I discussed in my recent article in EDUCAUSE Review, information technology is at the heart of how universities provide stand-out teaching and learning experiences, world class patient care, and conduct groundbreaking research. U-M is no exception, and Michigan IT News contains just a sampling of the innovative and collaborative work and services that our IT community provides. In the coming months, you'll hear more about the cloud, opportunities for workforce development, and the importance of cross-departmental (and cross-institutional) collaboration.
For example, Robin Littleworth and Amin Qaz of Unizin discussed the value of being involved in collaborative work with other institutions in the evolving landscape of digital teaching and learning in their recent article, "The Power of a Higher Education Consortium." By becoming more comfortable with cloud tools and vendors, we can engage in more innovative work at a scale that is greater than anything that could be done by a single institution. IT is going through a transformation as the capabilities of cloud computing deliver added value, from infrastructure to data analytics to machine learning. The work Michigan IT has done to build a strong and collaborative community will help us better leverage these new capabilities across the university and beyond.
Finally, like many of us across the country, I'm humbled by the stories of neighbors, emergency officials, and volunteers stepping up to support each other and respond to Hurricane Harvey's devastation. Last week, as I was driving to the office and listening to the radio, I was reminded that U-M Student Life extended an early welcome-to-campus to impacted Texas students and their families—a great example of "the Michigan Difference." If you'd like to help, check out the resources on the Red Cross website or one of the many options summarized here.
As always, please send me a note or stop and say hello if you see me on campus, at the gas station or across campus. I'd love to hear from you.
Go Blue!
Kelli
__________________________
Kelli Trosvig
Vice President for Information Technology and CIO
University of Michigan
Send questions or comments to Kelli through the Office of the CIO website or via email at trosvig.cio@umich.edu.