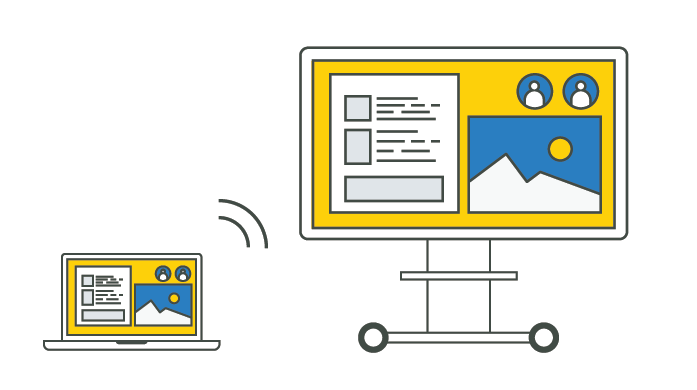 It's an all-too-familiar scenario: Your meeting started five minutes ago, and your slides won't show up on the AV equipment in the room. You're not sure if the problem is with the equipment or something you did. And you're not sure who can help.
Information and Technology Services (ITS) wants to help change that. The goal: to make it easier for the U-M community to use audiovisual capabilities in conference rooms on the UM-Ann Arbor campus.
ITS is not alone: A new community of practice about audiovisual technologies and deployments (MCommunity) is being facilitated by the College of Literature, Science, and the Arts, the Ross School of Business, and ITS. The group also includes representation from Health Information Technology & Services (HITS), College of Engineering, Law School, and others who seek to share best practices, create consistency, and increase buying power.
By incorporating campus feedback, the ITS Audiovisual (AV) service will help units design and build cost-effective solutions that are integrated with U-M infrastructure. The new service expands on ITS Videoconferencing Room Systems and now includes AV consultation, engineering and design, procurement, installation, configuration, and ongoing support.
"Our goal is to deliver a consistent AV experience across campus," said Alok Vimawala, ITS Infrastructure director of business services and AV service owner. "In every conference room ITS designs, you can expect the AV system to be familiar and easy-to-use."
So, what constitutes AV? ITS offers three standard configurations. The most common allows computers and other devices to connect to a room display, such as a display monitor or projector. Other rooms may require a more sophisticated solution to address the unique challenges of the space. In every case, ITS will partner with units to understand their needs, then design and build the system to specification, coordinating with external vendors if needed. Units may elect to install add-ons such as videoconferencing room systems, ceiling speakers and microphones, wireless content-sharing capabilities, and USB peripherals like cameras.
The cost of AV projects vary based on the characteristics of the conference room, what your unit is trying to accomplish, and whether facilities upgrades are needed. Your unit's ITS Infrastructure project manager can help you get started. Connectivity and troubleshooting support for AV systems is included as part of MiWorkspace. Units that are not supported by MiWorkspace can subscribe to ongoing, in-person AV support from ITS.
Units that are outside of the scope of ITS Audiovisual, or that need classroom AV support, should contact their local units. Michigan Medicine users should still work with HITS Digital Workplaces for any AV integration needs (see HITS AV standards).
For more information, visit the ITS Audiovisual Service website.