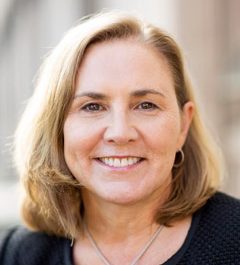 I've started my last few meetings with IT staff with a list of five things I've enjoyed so far about my time with Michigan. The list changes from day to day, based on the conversations I've had or the technology issues or opportunities that present themselves. But today, my list includes:
U-M's deep, independent expertise. The diversity of what goes on across our campuses is amazing.

Sunny days after a new snowfall. We haven't seen a lot of it lately, but I love how the light reflects across the snow.

Working for an institution with a leader that stands up for diversity, equity and inclusion — not only here in Michigan, but around the world.

U-M's school spirit. I went to my first men's basketball game last month and I loved how everyone was on their feet until the very end.

New opportunities to ask – and answer – a lot of questions. As I make my way across campus I ask tough questions and they are just that, questions without set answers.  
I encourage everyone to ask tough questions about what we do and why we do it, and how we can work better together to support the missions of the university. This newsletter features a number of examples of this in action, from the School of Dentistry's partnership to develop cloud-based dental electronic health records, to the School of Social Work's collaborative approach to redesign its website. Later this week, about 15 project teams will be asking tough questions of their own as part of Hacks With Friends. The submitted pitches are quite impressive!
I'd love to hear what questions you have, and what you enjoy most about working at U-M, as well. Please send me a note or stop and say hello if you see me on campus. 
In partnership,
Kelli
__________________________
Kelli Trosvig
Vice President for Information Technology and CIO
University of Michigan
Send questions or comments to Kelli through the Office of the CIO website or via email at trosvig.cio@umich.edu.