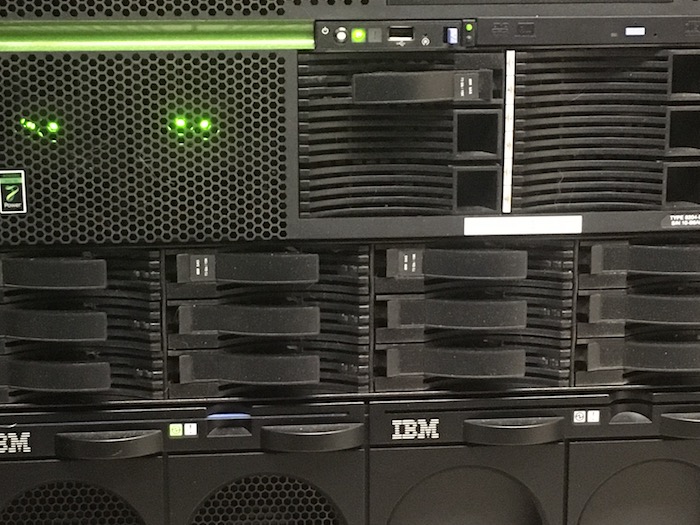 For U-M students, faculty, and staff, hardware that supports databases and application servers is, as it should be, a hidden part of the "plumbing" of the systems and applications they use. Though hidden, this underlying structure is a critical part of IT service delivery. Without diligent care, maintenance, and updates of hardware and operating systems, the performance and security of the U-M IT enterprise would deteriorate and the cost of services for the university could be prohibitively high.

Decommissioning the AIX operating system is one example of how ITS innovatively approached infrastructure updates. AIX, IBM's proprietary UNIX operating system, had reliably supported administrative systems, student registration, and U-M payroll for almost two decades. In the meantime, ITS started adopting a newer, open source Linux-based operating system that allows for more flexible, lower-cost hardware purchases, and ensures technology expertise is up-to-date and readily available. ITS was also looking for ways to optimize support of Oracle enterprise databases.
ITS decommissioned AIX hardware after migrating close to 100 databases and 200 application servers
These factors led to the decision in 2012 to migrate U-M enterprise Oracle databases from the AIX platform to the Oracle Exadata engineered system and move remaining applications to the Linux operating system and virtual server infrastructure. To minimize disruption to U-M academic and administrative operations, this carefully planned effort took more than three years. In January 2017, ITS decommissioned AIX hardware after migrating close to 100 databases and 200 application servers, realizing the following benefits:
Support effort savings:

Exadata is a converged infrastructure. By centralizing the management of databases, servers, network, and storage, we have streamlined administration with more than 20% efficiency increase for IT support teams. The DBA team was reduced by two FTE for Oracle support.

System downtime reduction:

Clustering technology allows for rolling patching, saving production downtime across critical university applications.  

Improved security standing:

Data encryption and a stricter network access approach increased system security and reliability.

Improved performance:

Oracle Exadata appliance and virtual application servers (MiServer) are faster and more scalable than stand-alone. PeopleSoft batch jobs decreased in average to 50% former runtimes.

Reduction of the server footprint:

Exadata appliances and virtualized application servers require 30% less data center floor space space and, accordingly, less power and maintenance effort than legacy AIX hardware.
To find out more about this effort, please contact the ITS Infrastructure Systems Lead Team or Amber Madden, database services manager.