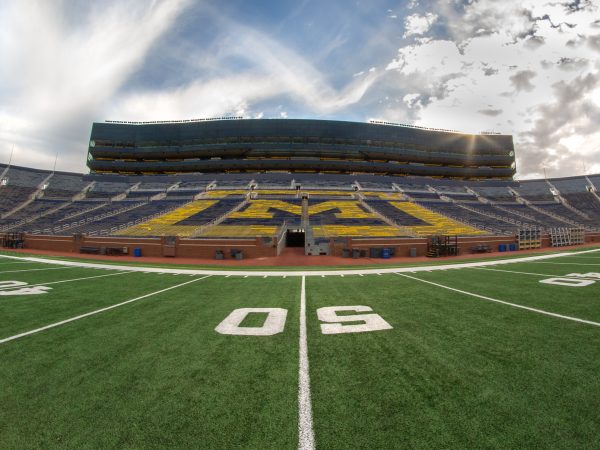 Michigan Stadium has had a busy summer preparing for a new season of Michigan Football. From scoreboards to Buddy's Pizza, there are new experiences awaiting fans, including improved cellular service. Two carriers worked with Information & Technology Services (ITS), Architecture Engineering and Construction (AEC), Environment, Health & Safety (EHS), Facilities and Operations (F&O), and Michigan Athletics IT to enhance existing systems and deliver additional capacity ahead of this year's season in and around the Big House. This will improve the fan experience though it will not meet the explosive demand.
These upgrades deliver 5G service from AT&T and Verizon inside the stadium for the first time so fans have a better experience at the game. Technically this includes service with low band (850 MHz) and C-band (3.7-3.98 GHz) spectrum, as well as modernized LTE. This adds capacity to the service and delivers lower latency, higher battery efficiency, and improved reliability compared with previous technologies. Verizon undertook an additional series of capacity upgrades leveraging C-band spectrum via new radios on existing pole top and rooftop sites around Michigan Stadium.
While this added capacity extends the service life of existing AT&T and Verizon systems, ITS has also begun work on a plan to substantially upgrade the cellular network and provide a great fan experience for the next decade. That substantial upgrade is expected to be available in Fall 2025.
As cellular has become more important and accessible to enterprises like U-M, ITS has established a cellular team and is working with carriers to assess and benchmark the performance of U-M and carrier cellular systems across the university. Meanwhile, the university continues to encourage other major carriers to collaborate with us and provide better service for fans as well.
The stadium enhancements are currently being optimized, which may extend into the first football game on Saturday, September 2, as work completes under full system utilization. We look forward to feedback on how these systems are performing!
Related article