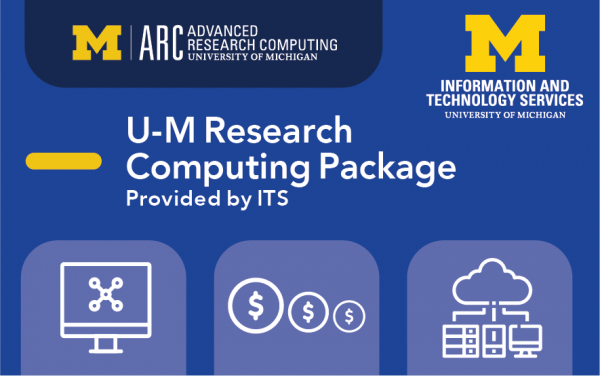 The no-cost bundle of supercomputing resources known as the U-M Research Computing Package (UMRCP) automatically renews for most on July 1.
Provided by Information and Technology Services, the UMRCP offers qualified researchers on all campuses (Ann Arbor, Dearborn, Flint, and Michigan Medicine) with allocations of high-performance computing, secure enclave, and research storage services. (Many units, including Michigan Medicine, provide additional resources to researchers. Be sure to check with your school or college.)
If a faculty researcher has left the university (or is about to), and their research remains at the university, an alternative administrator must be assigned via the ARC Resource management Portal (RMP) so that the allocations can continue uninterrupted. ARC is available to help researchers make this transition.
Don't have the UMRCP? Here's how to request resources
Faculty, as well as staff and PhD students with their own funded research on all campuses (Ann Arbor, Dearborn, Flint, and Michigan Medicine), are welcome to request allocations. Full details are available on the Advanced Research Computing website.
PhD researchers who do not have their own funded research can work with their advisor to be added to their allocations via the ARC Resource Management Portal (RMP).
"The UMRCP was launched in 2021 to meet the needs of a diversity of disciplines and to provide options for long-term data management, sharing, and protecting sensitive data," said Brock Palen, director, ITS Advanced Research Computing. "The UMRCP alleviates a lot of the pressure that researchers feel in terms of managing the technology they need to achieve breakthroughs."
More information