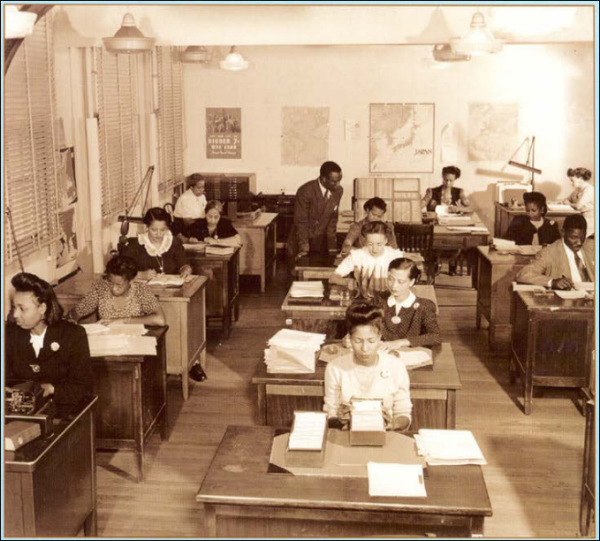 With Black History Month winding down and International Women's Day around the corner, ITS Information Assurance (IA) celebrates Black women in cybersecurity. 
In the face of racist institutional policies and segregation laws in 1940s and 1950s America, Black women, such as Annie Briggs, Ethel Just, and the Black "code girls" of Arlington Hall, blazed trails in a field that had little representation by women and people of color. More Black women followed in their path and made IT and cybersecurity history:
Marie Van Brittan Brown: Invented the first home security system and was credited with the invention of the first closed-circuit television.
Annie Easley: One of the first Black females to be hired by NASA as a "Human Computer," she developed and implemented code used in alternative power technology for early hybrid vehicles and rockets.
Marsha Rae Williams: First Black American woman to hold a Ph.D. in Computer Science. Dr. Williams received her B.S. degree in physics from Beloit College, an M.S. degree in physics from the University of Michigan, and an M.S. degree in systems and information science from Vanderbilt University.
Black women continue to broaden cybersecurity career horizons for future generations. Some of today's Black female cybersecurity leaders include:
Camille Stewart Gloster: Deputy National Cyber Director for Technology & Ecosystem for The White House. Ms. Gloser leads technology, supply chain, data security, and cyber workforce and education efforts and is a cyber, technology, and national security strategist and policy leader.
Tennisha Martin: Founder and executive director of BlackGirlsHack, a national cybersecurity nonprofit dedicated to providing education and resources to underserved communities and increasing diversity in cybersecurity.
Jessica Robinson: Executive officer of PurePoint International, helping leaders bridge the gap among data security, cyber risk, and privacy, and is currently the CISO for Women In Cybersecurity.
As we celebrate these women and their achievements, we recognize the work still needed to support diversity, equity, and inclusion in cybersecurity. Organizations, such as Blacks in Cybersecurity, Black Cybersecurity Association, the National Society of Black Engineers, and Women In Cybersecurity provide resources and support for Black leaders in the field, while others, such as the Michigan Council of Women in Technology, offer programs to spark girls' interest in IT.
On our campus, we have many opportunities to contribute to the university's Diversity, Equity and Inclusion (DEI) strategic plan by leveraging the resources provided by the Office of Diversity, Equity and Inclusion.
DEI, like cybersecurity, is a shared responsibility. We encourage all of us in Michigan IT to follow in the footsteps of Black female leaders in cybersecurity and do our part in creating a more inclusive, equitable and diverse U-M community.