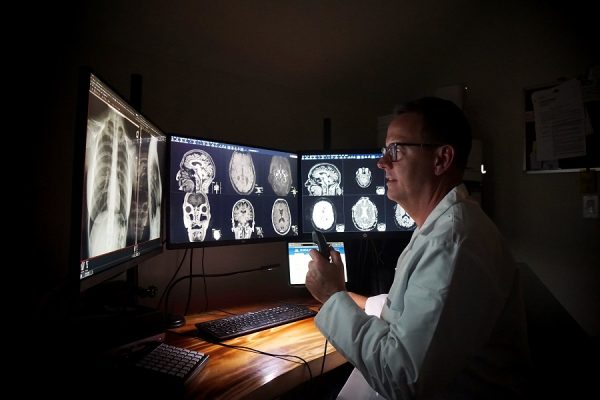 On May 16, the Michigan Medicine and U-M Health West radiology departments launched a remote emergency imaging interpretation service. Michigan Medicine's dedicated emergency radiologists now interpret all overnight and weekend urgent/emergent diagnostic radiology exams for U-M Health West. This provides a vital service to patients who receive emergency room care or are admitted to U-M Health West.
Together, the two health systems initiated a comprehensive and streamlined service that supports a shared vision, improves workflows, provides optimal care, and re-envisions collaboration in health care.
The vision
Historically, a third party teleradiology group provided U-M Health West with urgent/emergency services. This prompted discussions to extend Michigan Medicine's care:
"Rather than outsourcing radiology services to a third party, collaborating within our health system allows us to share Michigan Medicine's radiology expertise around the state," said Michael Todd, M.D., assistant professor of radiology and director of the Emergency Radiology Division. "This is an opportunity to expand our practice to more patients — whether they are in West Michigan or Ann Arbor."
Scott Flanders, M.D., the chief clinical strategy officer at Michigan Medicine, added, "This service extends our ability to provide interpretations of more complex radiology studies to regions that may not always have the level of subspecialty expertise we have here in Ann Arbor."
Planning for an integrated system
Discussion around a remote radiology service began in 2019, when U-M Health West was still named Metro Health. Michigan Medicine was already planning a new Pictured Archiving and Communication System, commonly referred to as PACS, so the first step was to ensure U-M Health West used the same system.
A unified PACS allows both medical centers to keep radiology images under one repository that both can access. That repository is the foundation for collaboration between the two departments.
This collaboration allows for the standardization of care and protocols. Radiologists can work more efficiently and develop higher quality reports, ultimately resulting in better patient care.
"The ability to provide a remote radiology service is the culmination of years of building a relationship between each radiology department," said Jason Battaglia, manager of strategic initiatives for the Michigan Medicine Department of Radiology.
Health Information Technology & Services and technical teams at U-M Health West were also integral to project initiatives.
By December 2021, Michigan Medicine and U-M Health West established a direct circuit connection for data transfer. Michigan Medicine implemented a new PACS in January 2022, and U-M Health West installed the same system the following May.
Accounting for increased workload
Michigan Medicine's Emergency Radiology Division had to absorb U-M Health West's volume of work into their own. Based on 2021 data, it was estimated that Michigan Medicine would see a 45 percent increase in overnight volume of radiology studies.
"We knew that if we were going to incorporate this increase, we were going to have to glean every bit of efficiency that we could," Todd said. Finding the most efficient approach for interpreting radiologists to accommodate the high demand was critical, and Michigan Medicine spent "the better part of two years" finding and integrating the right tools, processes and workflows to make this work possible.
All the while, the team knew that "Adding volume has to take a backseat to quality and patient safety," said Todd.
After matching Michigan Medicine's throughput with the expected 45 percent increase in volume, the Emergency Radiology Division determined they could provide coverage for half with IT solutions, while the other half would be covered by increased staffing.
"We looked at every process in great detail — every keystroke, every mouse click — and found solutions to eliminate inefficiencies. For example, one simple programming solution can eliminate 100,000 mouse clicks a year," said Todd.
"Both Michigan Medicine and U-M Health West technical teams spent many hours investigating solutions, modifying interfaces, testing system integrations and building a new dictation site to accommodate the technical changes required for the new workflow," said Lamia Marouf, lead project manager for Michigan Medicine's PACS replacement and remote radiology integration.
The go-live
IT services teams worked very closely with the Emergency Radiology Division every night to provide immediate support for the first two weeks of go-live, and the whole process was "very well executed."
These solutions and newfound efficiencies have had a positive impact on radiologists. For U-M Health West, turnaround times for radiology examinations have decreased, and the quality of reports has improved.
"It is hard to think of a better collaborative effort," stated Todd.