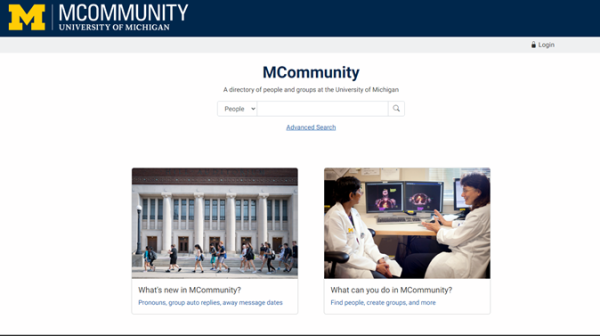 Released over ten years ago, MCommunity recently went through a remarkable transformation! The MCommunity Directory replaced the legacy U-M Online Directory (UMOD) in the summer of 2011. A major driver for the replacement was that UMOD did not support authentication and managing access to U-M resources based on who is affiliated with the university and in what capacity. This significant limitation, at a time when more people needed more access to institutional data and digital resources, prompted university leadership to greenlight the Enterprise Directory Service project.
The idea behind the Enterprise Directory Service was innovative for its time. Rather than being a system of record, the MCommunity Directory was set up as an aggregator of several data feeds from systems of record, such as Campus Solutions (CS) Prod (student information), Human Capital Management (HCM) Prod (emoployee data), Donor and Alumni Relationship Tool (Dart), Sponsor system (sponsored affiliates information), and Dearborn and Flint Banner systems (student and employee data). All this work made it possible to grant or deny access based on role and laid the foundation for future initiatives, such as migrating from Outlook to Google in 2012. 
Today, the MCommunity Directory is ubiquitous to everyone with a U-M affiliation. It provides directory capabilities, supports authentication, and enables the automated management of access to online and physical resources at university and department levels.
The recent MCommunity Transformation project enabled new features and improved functionality that better meet the needs of U-M faculty, staff, and students, and provide better privacy for U-M. Some of the enhancements to individual and group profile management delivered by the project were not possible when the MCommunity Directory was released eleven years ago. The project also helped facilitate more conversation across U-M about how the MCommunity Directory is used on the Flint, Dearborn, and Ann Arbor campuses.
The ITS Identity and Access Management team is committed to the ongoing improvement of MCommunity and will continue to release regular updates. Refer to the Updates and Release Notes page for more information on the updates being made to the MCommunity Directory.