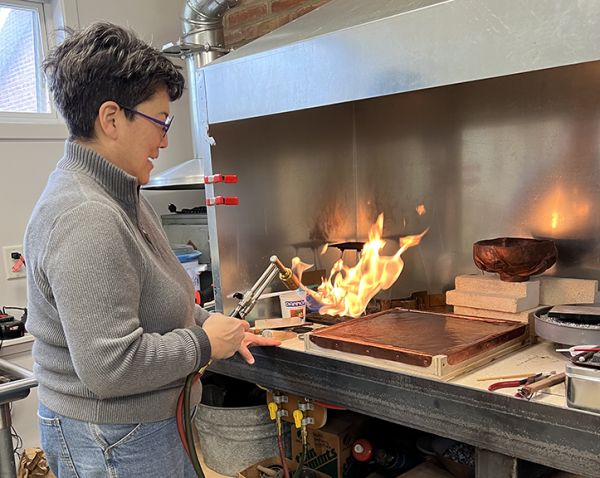 What is your role?
In my research liaison role with Health Information Technology & Services (HITS), I am at the information crossroads between our customers and technology and services they need to do their work. I apply my fine arts approach to my role as a business systems analyst. I want to understand the problem that needs to be solved and then figure out how I can help them achieve their research goals. I spend a lot of time just listening and being empathetic. I use the same process to solving research technology problems that I use to solve design problems in my studio. It starts by understanding the problem that we're trying to solve, then following a continuous improvement cycle: plan, do, check, act. It's a short cycle with small iterations.
While l've worked in IT most of my professional life, I've learned that it's so important just to listen and to get people to talk about what they're trying to do. To come to IT from a fine arts background is kind of funny – but it's helpful in the sense that I don't have a lot of preconceived notions. But at the core, my work is centered around giving form to abstract ideas. When I understand the problems my customers are trying to solve, I can connect them to the technology services that will enable their research.
What was your path to your current role?
If someone told me this is what I'd be doing for a living I wouldn't have believed it. But upon further reflection, I've been doing this my whole life. The arc of customer service and support has been the one constant in every job I've ever held.
My path to where I am today has not been straight. I sold some of the very first computers in Ann Arbor. I worked for a think tank for the U.S. Department of Defense that evaluated the quality of care of veterans and active duty military. My job was to test (and try to break) the code. I went to culinary school after that. And then I earned my master's degree and taught jewelry and metal smithing. After that, I worked at Pfizer in clinical student management monitoring. From there I worked at a local startup specializing in network intrusion detection.
Through all of those roles, my work always centered around process and the customer experience. It has taken my entire life to build the skills that I have today.
Now I've been at the university for 18 years, I've worked in all of the Michigan Medicine missions: clinical, education, and research. I've worked with the learning management systems (LMS) team, clinical research biospecimen management team (LabVantage) and operating rooms, patient and resident education, project management, and now basic science research. I've gotten to do so many things. I feel really lucky to have the opportunity to traverse such an interesting place.
What do you enjoy most about your job?
I get to talk to so many smart people. We all want to do a good job, push the edges of science, save lives, hold the institution safely – I get to put those pieces together. It's a very fun and imaginative process. I get to use my creative problem solving skills and I get to learn about things I never heard about. I enjoy advocating for customers, discovering gaps, and finding solutions. It's such an interesting job!
What motivates you?
I've always wanted to know what my customers want. If I can help you, I will. I'm committed to that. I also find ways to add onto my skills, and use the tools that I've learned, such as LEAN training and Managing to Learn, to create positive outcomes. I use the valuable professional skills of empathy, listening, and communicating to help me understand what I hear and translate that for all those involved.
What is the biggest challenge you face in your work?
In a knowledge driven society, we are supposed to know the answer. It's hard to say "I don't know." I've adapted that to, "I don't know, but I can find out." This shift allows me to be curious and ask questions until I understand the need. It allows me to understand what our customers are trying to do. Additionally, the IT ecosystem at U-M is so big that sometimes it's difficult to understand nuance and find the right solution.
I have found that our customers are grateful that we, as research liaisons, elevate their concerns so they can get their work done and change the world. It's incredible to be a part of that. We help them find the IT resources they need to do their job. We help someone do what they were brought here to do. We have to understand our audience, communicate effectively, build trust, and be empathetic.
What advice would you give your younger self?
I wish I had asked for help more often when I was younger. I would encourage my younger self to engage more with people – to ask them for advice to answer the question, "If I want to do this (whatever 'this' is at that time), what do you think is the best way for me to do that?" I would nudge my younger self into being completely curious – I'd tell her that it'll change her life! I'd tell my younger self that it's okay to be vulnerable – there's no shame in not knowing.
What do you do for fun?
My art studio is my happiest place in the world. I am a sculptor and metalsmith. I'm happiest when I have a hammer in my hand, especially when I use it in my art work. And I love riding my bike around Ann Arbor.