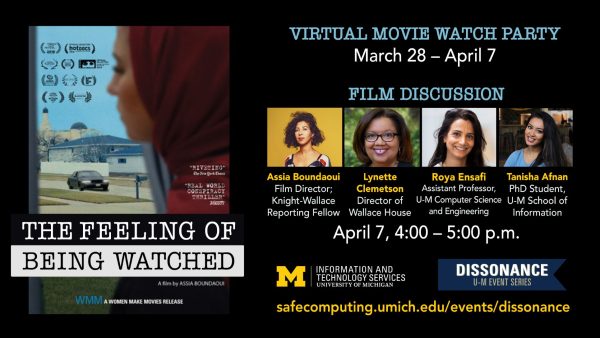 On the day the U.S. Senate confirmed the nomination of the first Black female justice to the United States Supreme Court, four women of color engaged in an illuminating conversation about government surveillance.

The conversation was part of an event, sponsored by Dissonance, Information and Technology Services (ITS), and Wallace House, that invited the U-M community to watch the award-winning documentary The Feeling of Being Watched and participate in a discussion with the film's director and Knight-Wallace Reporting Fellow, Assia Boundaoui. Boundaoui was joined by Wallace House Director Lynette Clemetson, Assistant Professor of Computer Science and Engineering Roya Ensafi, and School of Information Ph.D. Student Tanisha Afnan.

Boundaoui's film follows her examination of why her Arab-American community in a Chicago neighborhood was the subject of one of the largest counter-terrorism investigations ever conducted in the United States before September 11, 2001. The panel discussed a number of topics the film brought to light: from the impact of "old school" physical surveillance and how difficult it is to measure it, to the inadequacy of tools designed to bring us transparency and the government's vested interest in not disclosing information. The filmmaker also shared her plans for the tens of thousands of redacted pages the FBI was compelled to turn over in response to her Freedom of Information Act requests.

Boundaoui's story is not just about a government investigation. It's the story of a community, made vulnerable by the very characteristics that define it, coming together to pursue transparency, share emotional truths, and seek repair. The film is honest and personal, and Boundaoui opened up about the reason behind her decision to turn the camera on herself: "The first two years were behind the camera and pointing the mic at other people. About two years in, I realized that was not the most authentic way to make the film. I made the difficult decision to put myself in it. The only way to tell this story was to show the investigative process and the things I was grappling with. That is how I was going to get to the feeling of being watched."

Visit the Safe Computing event page to watch a recording of the discussion and learn more about the panelists. If you missed the U-M screening of The Feeling of Being Watched, you can see the film on PBS.